Daily Winners plus Grand Prizes!
Each holiday season for the past eight years, we've thanked the best customers in the world with a giveaway of automotive products and prizes. This year we're going all out with a special customer appreciation event that lasts for six weeks.

All prizes this year are ECS Tuning Reward dollars which can be redeemed at ECSTuning.com. Fun money to spend any way you like. It's all free. There is no catch, and you don't have to buy anything to participate.

You'll have three instant chances to win $10, $25, or $50 ECS Tuning Rewards daily, and a chance to win one of four $250 Grand Prizes. Each customer is limited to one win per day to make sure we spread the joy far and wide.

Wait! It gets better.
Bookmark the giveaway page and come back the next day, and each and
every day of the week--including Saturdays and Sundays--until January 5, 2014. That's 42 days of spin-to-win, with three fresh chances every day.

To spread the holiday cheer, new customers or friends can register and play, too. Same deal: Register. Play. Win. All registered participants are automatically entered in our Grand Prize Drawing for four $250 ECS Tuning Rewards, to be announced January 6, 2014. That's an extra $1,000 in prizes to be divided among the four lucky Grand Prize winners.

Thanks for another great year from the entire staff at ECS Tuning!
All registered participants are automatically entered into our
$250 Grand Prize drawing.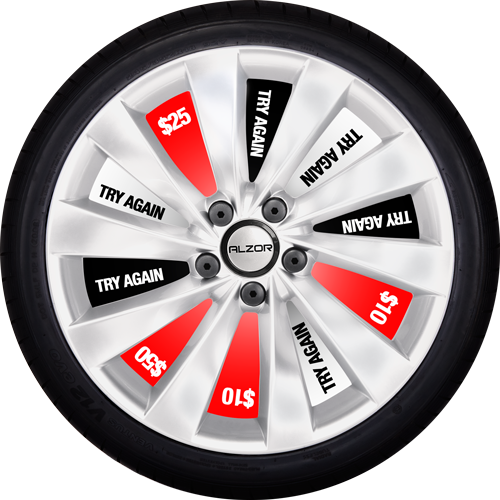 Check out the previous winners!
Freddy F.

- JK, ID

Stan F.

- TX, US

Keith F.

- PA, US

Alex B.

- MN, US

Jason F.

- TN, US
Congratulations to all our winners!
Freddy F.

- JK, ID

Stan F.

- TX, US

Keith F.

- PA, US

Alex B.

- MN, US

Jason F.

- TN, US

Danielle N.

- MI, US

Patrick Y.

- CT, US

Michael I.

- RI, US

Charles G.

- CA, US

Mark E.

- TX, US

Bojidar G.

- FL, US

Sean S.

- IN, US

Jason W.

- VA, US

Rachel F.

- PA, US

Michael D.

- NJ, US

Anh N.

- CA, US

Jayce R.

- MI, US

David D.

- QC, CA

Carlos G.

- AL, US

Sergey A.

- MOW, RU

Kenneth W.

- PA, US

Paul S.

- MA, US

Nathan H.

- IN, US

Michael D.

- WA, US

Michael S.

- CA, US

Cain D.

- CA, US

David D.

- QC, CA

Joshua B.

- MD, US

Calleigh W.

- MA, US

Bruce R.

- AL, US

Kevin G.

- NY, US

Dylan M.

- NS, CA

Brad J.

- WV, US

Christopher W.

- CA, US

Zack S.

- PA, US

Andrew G.

- OH, US

Andrew B.

- AR, US

Jared N.

- OK, US

MIchael T.

- FL, US

Stephen F.

- NJ, US

Dandan K.

- WA, US

Collin G.

- PA, US

Renford C.

- NY, US

Woodrow L.

- VA, US

Rachel Z.

- MD, US

Christopher M.

- VA, US

Drew P.

- FL, US

Andrew P.

- KS, US

Joe C.

- VA, US

Peter L.

- NSW, AU

Sean F.

- MB, CA

Mark A.

- FL, US

Kevin L.

- 10, MY

Aaron B.

- CA, US

Daniel M.

- NJ, US

Andrew B.

- AR, US

Todd F.

- NY, US

Tony V.

- CA, US

Jamil A.

- WI, US

Danelle S.

- AZ, US

Andrew K.

- AB, CA

Amjed H.

- NJ, US

P Joseph M.

- CO, US

Paul J.

- GA, US

Ellis H.

- PA, US