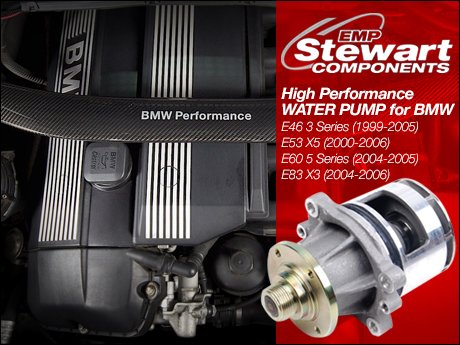 BMW EMP Stewart High Performance Water Pump
No more Mister Nice Guy. Fire your under-achieving stock pump and replace it with a High Performance water pump from EMP Stewart.

This is the pump your BMW should have had from day one. Designed for performance and durability, EMP decided to do it right the first time, increasing flow a full 20 percent over stock, while reducing parasitic draw with a highly efficient stainless steel impeller.

Add a heavy-duty bearing and high quality water seal, and you have a pump durable enough for daily driving; tough enough for the track.
Don't Wait for the Too-Late Light
Fits:
BMW E46 3 Series (1999-2005) non-M
BMW E53 X5 (2000-2006) 3.0L
BMW E60 5 Series (2004-2005) 2.5L/3.0L
BMW E83 X3 (2004-2006) All