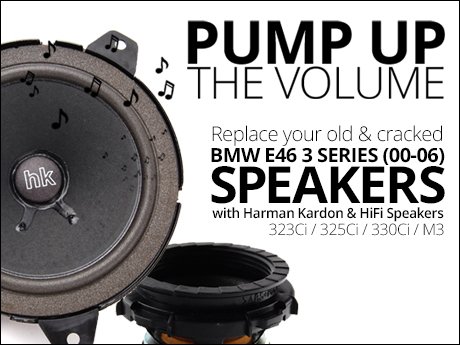 BMW E46 Speakers - 323Ci/325Ci/330Ci/M3
Loud tunes and a long time in service cause the cones and seals in speakers to deteriorate, especially in an automotive application. If your highs aren't as clear and your lows aren't as full as befits a BMW's audio system, look no further.

HiFi and Harmon Kardon components are Genuine BMW branded products, so factory fitment is guaranteed. No matter which original sound system your E46 Ci or M3 came with, both options are plug-and-play.

Revel in improved resolution, chimier treble, and more defined bass with a full set of Genuine BMW HiFi or Harmon Kardon speakers. Hear hear!
LOOOUUD NOOOOISES!
Fits:
323Ci (2000)
325Ci 01-06
330Ci 01-06
M3 01-06