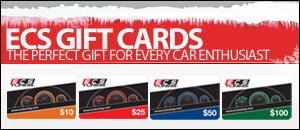 Nov 23, 2011
Give 'em what they want: cold hard cash. ECS Tuning Gift Certificates are the gift that won't get returned because it's the wrong size, style, or color. ECS gift cards come in different denominations, from 10 to 100 dollars, to fit any budget. These certificates are sure to please your favorite auto enthusiast, and they're a lot easier to wrap than a bowling ball!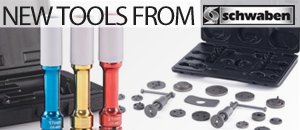 Sep 6, 2011
Today's modern engines were made with complex tools that only dealerships seem to have on hand. This forces one to take their vehicle to a dealer in order to get routine service. With these new tools from Schwaben, you can do this service yourself. Whether you need to do up your brake calipers, remove lug bolts and trim, ignition coils, or tighten your timing belt, Schwaben has the tool for the job. These high-quality and long lasting tools will do the job right the first time, giving you more time to enjoy your vehicle where it belongs, on the road.

Aug 16, 2011
ECS Tuning has been striving to give you quality factory and aftermarket components for your vehicle, in order to help you add power, style and some extra presence on the road. If you have been enjoying our products and want to show off your support for our company, these new license plate frames and stickers are for you. They come in a wide variety of colors, including green, white, orange, blue, red and even pink. Each item is easily attached to your vehicle and once in place, it will go perfectly with the other modifications that you have done.

Jul 22, 2011
Looking to add some carbon fiber to your vehicle, but don't want to spend hundreds and thousands of dollars? 3M has created a material called DiNoc, that adheres to your vehicle to give you that carbon look. 3M Di-Noc is not just a cheap imitation vinyl, it is a high quality three-dimensional textured vinyl that reflects light the same way real carbon fiber parts do. It is simple to install, as it just sticks to pretty much any surface, but also can be removed and re-applied numerous times without losing its adhesion.

Jul 7, 2011
If you want to improve the appearance of your vehicle and stay safe on the road, pick up these new Projector Fog Lights from Ziza. Projector fog lights are almost the same as ordinary fog lights, but projector lights utilize a different type of lens. This lens results in an extra-long throw with a distance similar to a vehicle's low beam lights. All in all, they look brilliant and help your on the road viability, especially during thick fog and heavy rain or snow. Talk about a win win. This part includes assemblies for both left and right sides of your car.

Jun 13, 2011
If you just got a new set of wheels for your vehicle and you want to maintain that clean appearance, than this new JOM Germany Invisible Valve Stem Kit is perfect for your vehicle. This new kit installs on your wheels and replaces that annoying black stem. The tire must be removed in order to install this part and your valve stem will sit high enough for one nut to secure it in place. After you use the supplied adapter to inflate your tires, you are good to go. When installing these stems, we recommend applying a light film of grease during installation.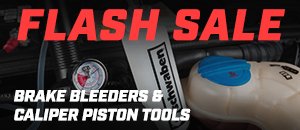 Sep 28, 2010
Brake service is an important aspect of ownership and an excellent way to increase performance with dedicated pads, rotors, calipers, and lines. Unfortunately, without the proper tools, brake services that involve bleeding are two-man jobs without the right tools and pressing caliper pistons in can be a pain. That's why we have Brake Bleeder Tools and Caliper Piston Tools for you, discounted now, to make that next brake job a breeze.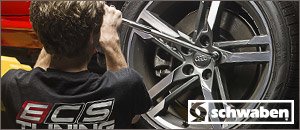 0, 0
When it comes to the wheel essential tools there are really only a few categories, Schwaben has an answer for each. When removing or installing wheels, Schwaben's Telescoping Lug Wrench gives you the leverage you need to easily loosen or tighten lugs—all in a compact, easy to store package. When you have multiple wheel and tire sets, the Schwaben Wheel Tree and Wall Rack are the perfect accessory to keeping your garage clean and organized. Extend the life of your tires by keeping them off the floor.