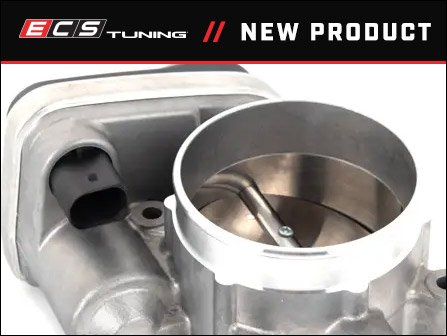 Performance Throttle Body Upgrade - C7 A6/A7 3.0T
The stock throttle body is smaller than the supercharger inlet creating a massive restriction and directly responsible for power loss. ECS Tuning's in-house designed and engineered Performance Throttle Body Upgrade will do the trick. Designed with a smooth flow path in mind, we start off with a wire reinforced silicone inlet that resists collapse and is stepped in the internal diameter to create a smooth transition to the throttle body. We then went with a high quality OEM Mopar 80mm throttle body that is 10mm larger and has 30% more cross sectional area than OE. The final step is the cast aluminum adapter housing with port matched internal diameters to provide the smoothest flow path possible. On our test car equipped with IE dual pulley 93 octane 80mm throttle body tune, ECS exhaust (valves open, stock catalytic converters), ECS supercharger heat exchanger, ECS Kohlfaser Luft Technik Intake, ECS supercharger and crank pulley, we saw 415 HP and 385 TQ at the WHEELS. See below for full specs and detailed installation guide!
Have dual pulleys and ready for more?
Fits:
C7 A6/A7 3.0T
IE Audi 3.0T Crank Pulley Upgrade Kit
Increases supercharger RPM by 26% when paired with IE overdrive supercharger pulley IEBAVJ1A
*3.0 TFSI Performance Software and IE overdrive supercharger pulley (IEBAVJ1A) is sold separately and required in order for this pulley to yield a performance benefit.*

Stage 2 IE Performance Tune - Dual Pulley
Average gain of 131 horsepower and 136 lb-ft of torque on 91 Octane
Perform tune in minutes from the comfort of your own driveway! Only available for purchase in the United States and Canada.

Choose how many gift cards you would like below. You can set the denomination in your cart during checkout.
Availability:
Inventory On Order, ETA Nov 15, 2021
Auto Notify