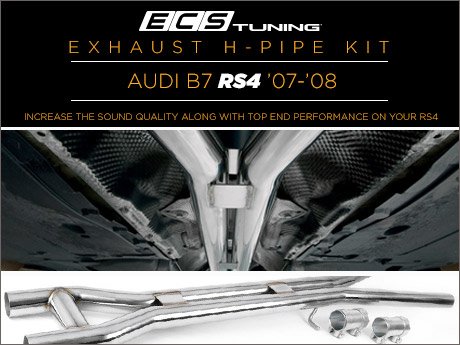 Audi B7 RS4 ECS H-Pipe Kit
Here's a "sound" investment that will give your Audi RS4 a voice worth listening to. ECS Tuning has developed an H-Pipe that replaces the OE resonator, producing a great outside exhaust note that won't drone you out of the interior.

As an added bonus, we've personally tested this H-Pipe numerous times on the dyno and found an extra 3-5 hp at 6000-8000 rpm. The H-pipe won't interfere with flapper valves in the rear mufflers.

Installation is a cut and clamp affair. Cut out the old resonator; clamp in the H-pipe.

A Sound Investment.
Fits:
Audi B7 RS4 (2007-2008)

Choose how many gift cards you would like below. You can set the denomination in your cart during checkout.
Expected Availability: Same Day