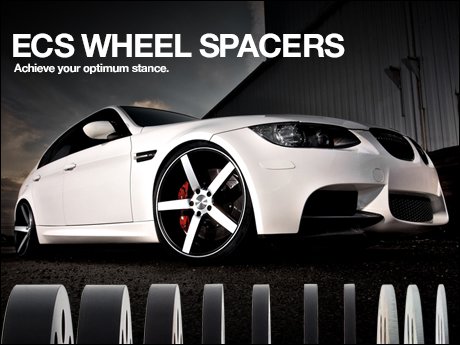 ECS Spacers For Your BMW (72.6mm center bore)
ECS Tuning lets you boost your stance down the road with a 20mm monster offset, or tweak a little to fit your brake kit with a 2mm offset adjustment. Center bore 72.6mm to fit your BMW.

Choose from our huge inventory of hub centric spacers in thicknesses sure to match your car, your wheels, and your shopping budget.

All spacers are corrosion protected: 2,3, and 4mm spacers are zinc plated steel; thicker spacers, in sizes ranging from 5 to 20mm, are anodized aluminum. Buy them alone or with matching lug bolts.
Ready. Offset. Go.
Fits BMW:
E23 (78-87)
E24 (77-89)
E28 (82-88)
E30 M3 (84-91)
E31 (91-97)
E32 (88-94)
E34 (87-95)
E36 (92-98)
E38 (95-01)
E46 (99-05)
E52 (00-03)
E53 (00-06)
E60-64 (04-10)
E65 (02-08)
E82/88 (08+)
E83 (04-10)
E9X (06-11)
Z3 (96-02)
Z4 (03+)