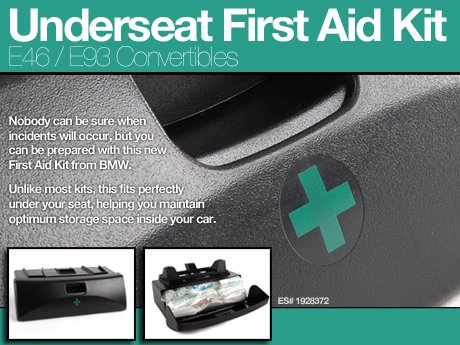 BMW E46 / E93 Underseat First Aid Kit
Accidents, bumps and bruises occur all the time, even in the car, so be prepared with this new BMW Underseat First Aid Kit from European BMW. Unlike most first aid kits, this one hides away under your seat, giving you added storage space in your vehicle. When you need it, just pull it out and your good to go. We have included everything you'll need to make this kit secluded. Parts include the kit itself, a first aid box, under seat mounting bracket and all the mounting hardware. Don't let minor injuries go unattended, pick up this new First Aid Kit today.
*Fits convertibles models only*
Complete Underseat First Aid Kit - (NO LONGER AVAILABLE)
Add an option European cars received that US cars didn't.
Brand:

ES#: 1928372
Mfg#: 52108267529
No longer available