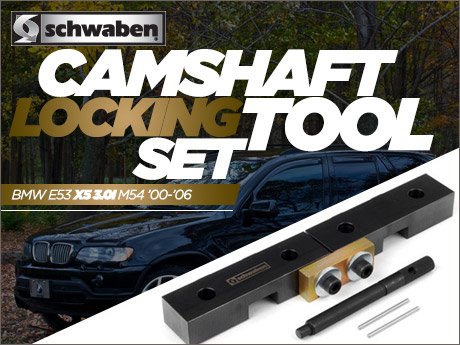 BMW E53 X5 3.0i M54 Camshaft Locking Tool Set
If you plan on attending to any part of your vehicle's cylinder head, you will likely need to re-time your camshafts.

During this type of work, the crankshaft must be set at Top Dead Center (TDC), and the camshafts themselves must remain locked.

Cam positioning is a critical procedure on today's computer-controlled vehicles - a camshaft that is timed in error will run very poorly and eventually cause catastrophic damage.

The Schwaben Camshaft Locking Tool Set will lock your camshaft and crankshaft at the correct position during assembly, and includes a top dead center pin.

Lock Down!
Fits:
BMW E53 X5 3.0i M54 (2000-2006)
Choose how many gift cards you would like below. You can set the denomination in your cart during checkout.
$86.95

Free Shipping