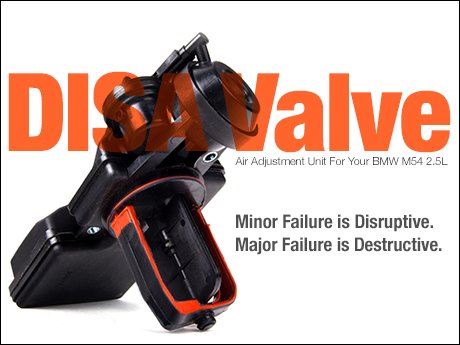 BMW DISA Valve - M54 2.5L Engines
The symptoms are annoying. The costs can be painful.

DISA valves control intake manifold runner length to improve engine performance at different rpm. When they fail, the DISA valve bangs around in its housing, making a rattling noise accompanied by rough idle and off-idle hesitation.

If your BMW experiences these symptoms, don't wait to fix it. In some cases, parts of the DISA--including a metal spreader pin--can be sucked into your engine, causing serious engine damage.

Easy to replace, your new DISA screws to the side of the intake and comes with pre-installed sealing gasket.
Minor Fix-Major Savings
Fits BMW M54 2.5L:
E39 525i (01-03)
E46 325Ci/i/xi (01-05)
E60 525i (04-05)
E83 X3 (04-05)
Z3 2.5i (01-02)
Z4 2.5i (03-05)