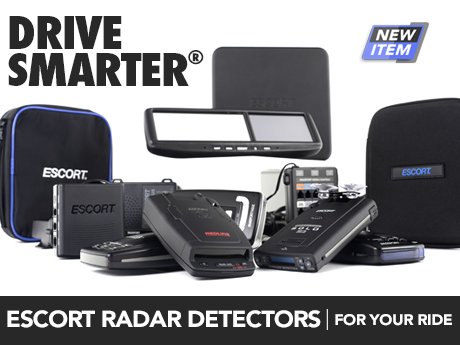 Escort Radar Detectors
For over 35 years, Escort has been a leader in high-performance radar and laser detectors.

Offering advanced features of convenience such as GPS, Bluetooth, and cell phone integration, as well as clever performance features like all-band ultimate radar/laser protection, 'instant on', and laser shifters, Escort radar detectors are the pinnacle of protection for the automotive enthusiast.

ECS Tuning is proud to be your authorized dealer of Escort products, the most intelligent solution for discerning drivers.

Drive Smarter
For Your Ride
Escort Solo S3 - (NO LONGER AVAILABLE)
The most powerful cordless radar & laser detector on the market with protection across all bands
Perfect for those with multiple vehicles, just stick to the windshield and go. Ultra portable!

Escort Passport Max - (NO LONGER AVAILABLE)
Fastest response with amazing accuracy all in a subtle, refined package
Featuring GPS technology to lock out false alerts while alerting the driver to red light and speed cameras