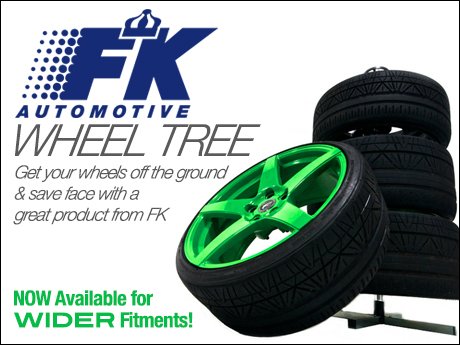 FK Wheel Tree
Protect your wheel and tire investment with an FK Wheel Tree. Convenient and easy to assemble, the tree stacks seasonal wheels and tires to save valuable floor space.

The ingenious design supports and separates your wheels to prevent face scratching and tire carcass stress caused when wheels are leaned against a wall for extended periods.

Available in two sizes, for standard and wide widths, FK tire trees are made from polished metal tubes with non-marring wheel separators. Complete kits include hardware, wrench, and a cloth protective bag.
Safe, Stackable Wheel Storage
Fits:
Audi
BMW
Mercedes Benz
MINI
Porsche
Volkswagen
Wheel Tree - For Wider Wheels - (NO LONGER AVAILABLE)
Get your wheels out of the way with a great product from FK
Brand:

ES#: 2593852
Mfg#: FKEF000933
No longer available
Wheel Tree - (NO LONGER AVAILABLE)
Get your wheels out of the way with a great product from FK
Brand:

ES#: 2137119
Mfg#: FKTO010009
No longer available