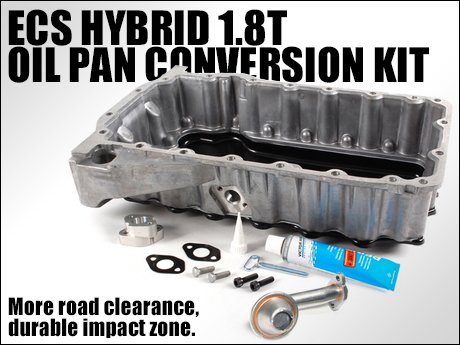 ECS Hybrid 1.8T Oil Pan Conversion Kit
Ram your OE oil pan into a curb, and all the kings horses and all the king's men, won't put that pan back together again. Low-hanging, one-piece cast OE oil pans crack like an egg shell on impact.
ECS has engineered a solution: a hybrid oil pan that combines the heat transfer qualities of aluminum with the impact resistance of stamped steel. Unlike the one-piece pan, the ECS hybrid pan lower steel section dents, but won't shatter.
This is a complete kit, with everything you need to install it, including turbo drain tube adapter, bolts, and sealer.
A Cure for Humpty Dumpty Oil Pans
Choose how many gift cards you would like below. You can set the denomination in your cart during checkout.
$189.95

Free Shipping