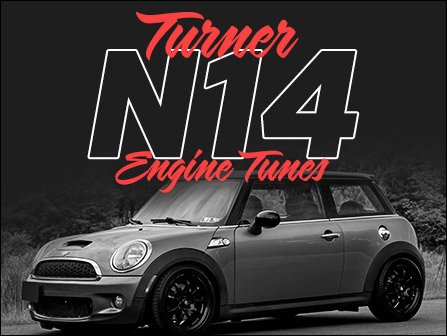 NEW MINI N14 Turner Motorsport Performance Software
Our N14 tune removes the factory speed limiter, raises the rev limiter to 6900rpm, and will offer full power at 93 octane (although is compatible with 91 octane as well). Our modified calibrations offer significant peak power gains of +34 horsepower and +29 ft-lbs torque (with max gains of 38 horsepower and 38 ft-lbs torque). Your MINI Cooper S will pull harder all the way to redline - sure to put a smile on your face.

N14
Fits:
2008-2010 MINI R55 MINI Clubman S N14 Engine
2007-2010 MINI R56 MINI Cooper S N14 Engine
2009-2010 MINI R57 MINI Cooper S Convertible N14 Engine

Turner Stage 1 Performance Software
High performance street tune without compromise - featuring the Turner Flash DIY tool for easily tuning your MINI in your driveway or garage.
Fits R55-R57 MINI Cooper S 2007-2010 ( N14 Engines )

Choose how many gift cards you would like below. You can set the denomination in your cart during checkout.
Availability:
Ships in 1 day
Starting at

$437.71

Free Shipping