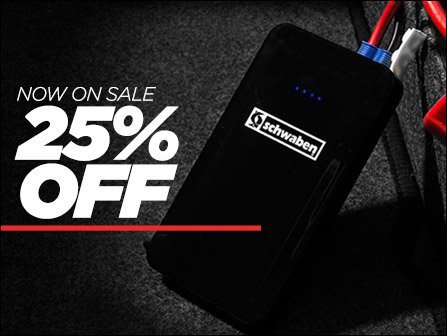 Schwaben Micro Jump Start Kit
Do you trust your car's battery? It's your car's sole source of power, and it may leave you helpless if you have no jumper cables or anyone to help.

Now you can handle these dangerous situations with the Schwaben Micro Jump Start Kit. Just about the size of a phone, it holds the power to jump your car's battery and get you going again -- and again, three or four more times on a single charge!

This is your all-in-one go-to lifeline. Jump start your car, charge your cell phone, and use its flashlight to stay safe and prevent emergency situations.

Never leave home without it!
Take Charge with Schwaben.
Fits:
Most Applications
12 Ft 6 Gauge Booster Cables
Don't be left stranded with a dead battery. Keep a set of quality Schwaben Booster cables in you trunk for that unexpected emergency.
Automatic Battery Tender
Don't let your battery charge fall flat! Offering 2 or 4 amp charging, LED setting indicators, reverse polarity warning and charging status of the battery. Supports 6 and 12 volt batteries.