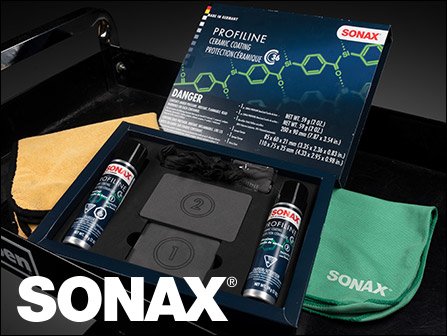 SONAX Ceramic Coating Kit for your Vehicle
Almost every dealership will offer you a 'protective coating' that prevents dirt, grime, and water spots from marring your paint while creating a hard shell to protect it from chips or other damage. This is often an incredibly expensive and time-consuming purchase that is exclusive to new cars or cars purchased from a dealership. Now, thanks to Sonax, you have the ceramic power in your hands with this professional-grade ceramic protection kit for your car! Finish off your wash with the best protection possible from Sonax.
NOW Available at ECS
For your Vehicle
CC36 Ceramic Kit
Strengthen, protect and enhance your paint! Ground shipping only.
Ground Shipping Only

Clay Disc
Removes stubborn dirt, overspray, water spots, tree sap, adhesive residue, and more!
FlexiBlade
Silicone squeegee for fast-drying action!