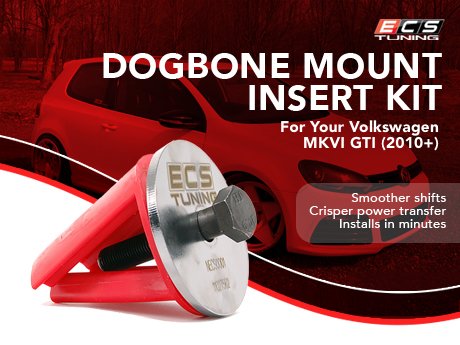 Dogbone Mount Insert Kit - VW MKVI GTI (2010+)
Mount up. Add an ECS Tuning dogbone mount stiffener and tighten the tranny-to-chassis connection. Reduce drivetrain movement--especially when your right foot is all the way down--with this high-durometer polyurethane insert, available in red or black.

This complete kit installs easily to add muscle to your flabby OE pendulum mount. No need to remove the old mount; just insert the stiffener and fasten it to the chassis with the stretch bolt and large washer included in the kit.

Hold Your Horses.
Fits:
Volkswagen MKVI GTI (2010+)
ECS Dogbone Mount Insert Kit - Red
Smoother shifts and better throttle response in minutes
Brand:

ES#: 2193007
Mfg#: 10-ECS-018R
No longer available