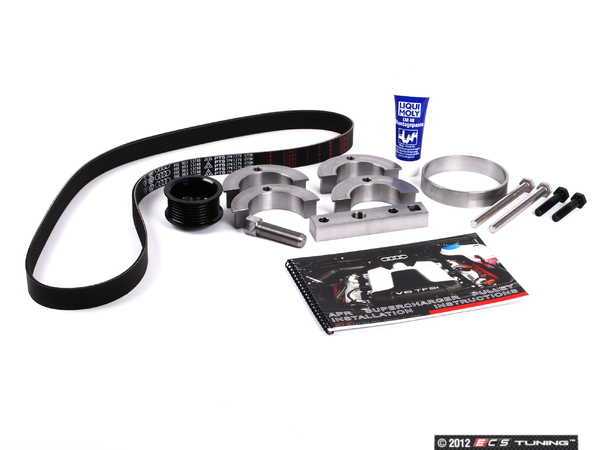 Product Details
APR likes to be pioneers in the automotive world and that shows with this new Supercharger Pulley Upgrade, a world first for the 3.0 TFSI motor. This part requires you to have the Stage 1 upgrade before you can upgrade to the pulley with Stage 2. What's the reason for this you might be asking?
Go from the stage one chip of 362hp to 388hp stage 2+ kit and never look back!
Without recalibrating the ECU found in your vehicle, pulley upgrades offer no advantage, as the supercharger will simply bypass boost pressure. Yet, with the upgrade, they are able to develop new hardware and calibrate the ECU to work properly as if it was intended by the factory. When you upgrade the ECU, many expect a massive increase in torque, but that simply isn't the case with these new supercharged motors. The ECU upgrade offers up more power, but if you want insane amounts of torque, this new Supercharger Pulley Upgrade is for you. The gain in torque is felt immediately, but the results are present from beginning to end adding up to 80ft-lbs and 108 horsepower at all four wheels.
*This price includes a $150 labor fee for the chip installation.
Kit Contents
| Description | Brand | Qty | |
| --- | --- | --- | --- |
| Labor Charge For Chip Or Software Installation | | 1 | |
| 3.0 TFSI Stage 2+ Supercharger Pulley Upgrade Kit - (NO LONGER AVAILABLE) | | 1 | |
| 3.0 TFSI Stage II Supercharger Drive Pulley Installation Kit | | 1 | |
others bought
recently viewed