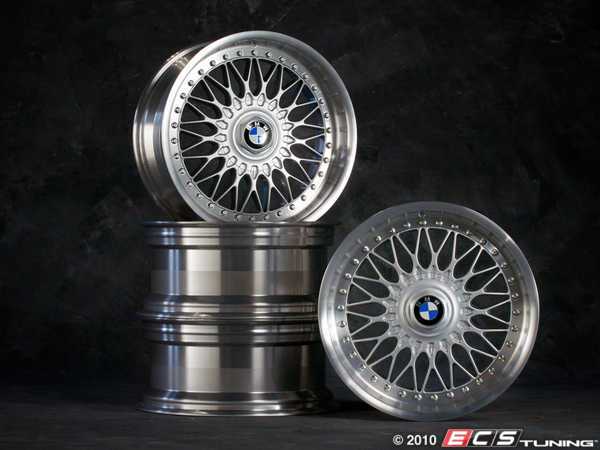 1859.48

Free Shipping
Auto Notify
Does this fit my vehicle?
Product Details
Four wheel set of 17" Genuine Style 5 Cross Spoke wheels with center caps.
Includes:
4 - 17x8 ET20 Wheels
4 - Center Caps
4 - Hubcentric rings
Don't forget to pick up a set of our ECS Tuning wheel spacers for that perfect look!
This Part Fits the Following Vehicles
| Make | Model | Submodel | Engine |
| --- | --- | --- | --- |
| BMW | E28 | 524td | M21 2.4L |
| BMW | E28 | 528e | M20 2.7L |
| BMW | E28 | 533i | M30 3.2L |
| BMW | E28 | 535i | M30 3.4L |
| BMW | E28 | 535is | M30 3.4L |
| BMW | E28 | M5 | S38 3.5L |
| BMW | E34 | 525i | M20 2.5L |
| BMW | E34 | 525i | M50 2.5L |
| BMW | E34 | 530i | M60 3.0L |
| BMW | E34 | 535i | M30 3.4L |
| BMW | E34 | 540i | M60 4.0L |
| BMW | E34 | M5 | S38 3.5L |
| BMW | E36 | 318i | M42 1.8L |
| BMW | E36 | 318i | M44 1.9L |
| BMW | E36 | 318ic | M42 1.8L |
| BMW | E36 | 318ic | M44 1.9L |
| BMW | E36 | 318is | M42 1.8L |
| BMW | E36 | 318is | M44 1.9L |
| BMW | E36 | 318ti | M42 1.8L |
| BMW | E36 | 318ti | M44 1.9L |
| BMW | E36 | 320i | M50 2.0L |
| BMW | E36 | 323i | M52 2.5L |
| BMW | E36 | 323ic | M52 2.5L |
| BMW | E36 | 323is | M52 2.5L |
| BMW | E36 | 325i | M50 2.5L |
| BMW | E36 | 325ic | M50 2.5L |
| BMW | E36 | 325is | M50 2.5L |
| BMW | E36 | 328i | M52 2.8L |
| BMW | E36 | 328ic | M52 2.8L |
| BMW | E36 | 328is | M52 2.8L |
| BMW | E36 | M3 | S50 3.0L |
| BMW | E36 | M3 | S52 3.2L |
| BMW | E38 | 740i | M60 4.0L |
| BMW | E38 | 740i | M62 4.4L |
| BMW | E38 | 740iL | M60 4.0L |
| BMW | E38 | 740iL | M62 4.4L |
| BMW | E38 | 750i | M73 5.4L |
| BMW | E38 | 750iL | M73 5.4L |
| BMW | E39 | 525i | M54 2.5L |
| BMW | E39 | 528i | M52 2.8L |
| BMW | E39 | 530i | M54 3.0L |
| BMW | E39 | 540i | M62 4.4L |
| BMW | E46 | 323Ci | M52 2.5L |
| BMW | E46 | 323i | M52 2.5L |
| BMW | E46 | 325Ci | M54 2.5L |
| BMW | E46 | 325i | M54 2.5L |
| BMW | E46 | 325xi | M54 2.5L |
| BMW | E46 | 328Ci | M52 2.8L |
| BMW | E46 | 328i | M52 2.8L |
| BMW | E46 | 330Ci | M54 3.0L |
| BMW | E46 | 330i | M54 3.0L |
| BMW | E46 | 330xi | M54 3.0L |
| BMW | E60 | 525i | M54 2.5L |
| BMW | E60 | 525i | N52 3.0L |
| BMW | E60 | 525xi | N52 3.0L |
| BMW | E60 | 528i | N52 3.0L |
| BMW | E60 | 528xi | N52 3.0L |
| BMW | E60 | 530i | M54 3.0L |
| BMW | E60 | 530i | N52 3.0L |
| BMW | E60 | 530xi | N52 3.0L |
| BMW | E60 | 535i | N54 3.0L |
| BMW | E60 | 535i | N55 3.0L |
| BMW | E60 | 535xi | N54 3.0L |
| BMW | E60 | 545i | N62 4.4L |
| BMW | E60 | 550i | N62 4.8L |
| BMW | E60 | M5 | S85 5.0L |
| BMW | E61 | 525i | M54 2.5L |
| BMW | E61 | 530xi | N52 3.0L |
| BMW | E61 | 535xi | N54 3.0L |
| BMW | E63 | 645Ci | N62 4.4L |
| BMW | E63 | 650i | N62 4.8L |
| BMW | E63 | M6 | S85 5.0L |
| BMW | E64 | 645Ci | N62 4.4L |
| BMW | E64 | 650i | N62 4.8L |
| BMW | E64 | M6 | S85 5.0L |
| BMW | E65 | 745i | N62 4.4L |
| BMW | E65 | 750i | N62 4.8L |
| BMW | E65 | 760i | N73 6.0L |
| BMW | E65 | 760Li | N73 6.0L |
| BMW | E65 | B7 Alpina | N62 4.4L |
| BMW | E66 | 745Li | N62 4.4L |
| BMW | E66 | 750Li | N62 4.8L |
| BMW | E66 | 760Li | N73 6.0L |
| BMW | E82 | 128i | N52 3.0L |
| BMW | E88 | 128i | N52 3.0L |
| BMW | E90 | 325i | N52 3.0L |
| BMW | E90 | 325xi | N52 3.0L |
| BMW | E90 | 328i | N52 3.0L |
| BMW | E90 | 328xi | N52 3.0L |
| BMW | E90 | 330i | N52 3.0L |
| BMW | E90 | 330xi | N52 3.0L |
| BMW | E91 | 325i | N52 3.0L |
| BMW | E91 | 325xi | N52 3.0L |
| BMW | E91 | 328i | N52 3.0L |
| BMW | E91 | 328xi | N52 3.0L |
| BMW | E92 | 328i | N52 3.0L |
| BMW | E92 | 328xi | N52 3.0L |
| BMW | E93 | 328i | N52 3.0L |
| BMW | F10 | 528i | N20 2.0L |
| BMW | F10 | 528i | N52 3.0L |
| BMW | F10 | 528i xDrive | N20 2.0L |
| BMW | F10 | 535i | N55 3.0L |
| BMW | F10 | 535i xDrive | N55 3.0L |
| BMW | Z3 | 1.9 | M44 1.9L |
| BMW | Z3 | 2.3 | M52 2.5L |
| BMW | Z3 | 2.5 | M52 2.5L |
| BMW | Z3 | 2.5i | M54 2.5L |
| BMW | Z3 | 2.8 | M52 2.8L |
| BMW | Z3 | 3.0i | M54 3.0L |
| BMW | Z3 | M Coupe | S52 3.2L |
| BMW | Z3 | M Coupe | S54 3.2L |
| BMW | Z3 | M Roadster | S52 3.2L |
| BMW | Z3 | M Roadster | S54 3.2L |
| BMW | Z4 | 2.5i | M54 2.5L |
| BMW | Z4 | 3.0i | M54 3.0L |
| BMW | Z4 | 3.0i | N52 3.0L |
| BMW | Z4 | 3.0Si | N52 3.0L |
| BMW | Z4 | M Coupe | S54 3.2L |
| BMW | Z4 | M Roadster | S54 3.2L |
| BMW | Z4 | sDrive28i | N20 2.0L |
| BMW | Z4 | sDrive30i | N52 3.0L |
| BMW | Z4 | sDrive35i | N54 3.0L |
| BMW | Z4 | sDrive35is | N54 3.0L |
*The above product applications have been written by ECS Tuning. All warranties, product application, fitment, and performance are the responsibility of ECS Tuning. For additional information see the terms of use.
Kit Contents
| Description | Brand | Qty | |
| --- | --- | --- | --- |
| Style 5 Center Cap - Priced Each | | 4 | |
| Hub Centric Ring Adapter (74.1mm - 72.54mm) | | 4 | |
| 17" Style 5 Cross Spoke Wheel - Priced Each | | 4 | |
Installation
others bought
recently viewed