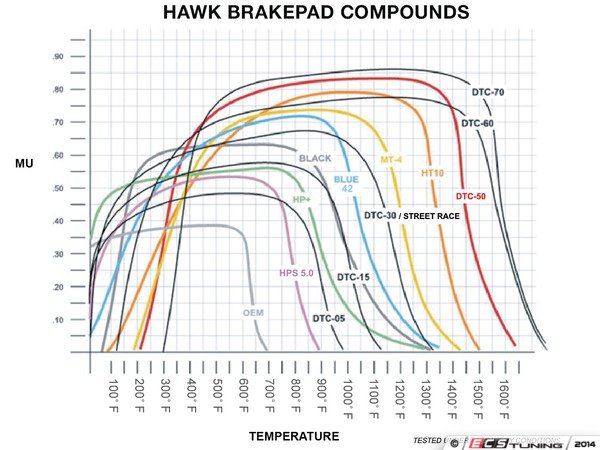 163.60

Free Shipping
Does this fit my vehicle?
Product Details
Hawk HP Plus brake pads have fade resistant ferro-carbon friction material, suitable for performance street and track use. Typical of high performance pads, HP Plus pads have race level characteristics that may increase rotor wear, noise, and dust. If it's time to replace your pads, it is also a good idea replace your rotors to get maximum braking performance and longer life out of your brakes. Replacing just one component can result in problems down the road. ECS carries a wide variety of brake rotors for your vehicle. With new pads and rotors, you need to make sure they are bedded and mated with each other. To be sure they are, follow the brake pad bedding procedure on ECS Tuning's site.
Not sure which Hawk performance brake pad is right for your needs? Consult the "Hawk Brake Pad Compounds" graph for an illustration of braking temperatures versus coefficient of friction. A brake pad from the right of the graph such as DTC-50, DTC-60, or DTC-70 will provide aggressive stopping power for the track, but may not be suitable for street driving as they require higher temperatures to function properly. Selecting a pad from the left of the graph such as HPS 5.0, HP+, or the new Street Race will offer a more streetable upgrade with comparatively lower dust and quieter performance, while still improving brake torque and being gentle on rotors.
This Part Fits the Following Vehicles
| Make | Model | Submodel | Engine |
| --- | --- | --- | --- |
| Audi | A3 8P | FWD | 2.0T |
| Audi | A3 8P | FWD | TDI |
| Audi | A3 8P | Quattro | 2.0T |
| Audi | A3 8P | Quattro | 3.2L |
| Audi | A3 8P | Quattro | V6 3.2L |
| Audi | A3 8P | All | TDI |
| Audi | TT MKII | FWD | 2.0T |
| Volkswagen | Beetle | GTI | 1.8T Gen3 |
| Volkswagen | Beetle | GTI | 2.0T Gen3 |
| Volkswagen | Beetle | GTI | TDI |
| Volkswagen | CC | FWD | 2.0T |
| Volkswagen | CC | FWD | VR6 |
| Volkswagen | EOS | All | 2.0T |
| Volkswagen | EOS | All | 3.2L |
| Volkswagen | Golf V | All | 2.0T |
| Volkswagen | Golf V | All | 2.5 |
| Volkswagen | Golf V | All | TDI |
| Volkswagen | Golf VI | All | 2.0T |
| Volkswagen | Golf VI | All | 2.5 |
| Volkswagen | Golf VI | All | TDI |
| Volkswagen | Jetta V | All | 2.0T |
| Volkswagen | Jetta V | All | 2.5 |
| Volkswagen | Jetta V | All | TDI |
| Volkswagen | Jetta VI | Sedan | 1.4T Hybrid |
| Volkswagen | Jetta VI | Sedan | 1.8T Gen3 |
| Volkswagen | Jetta VI | Sedan | 2.0 |
| Volkswagen | Jetta VI | Sedan | 2.0T Gen3 GLI |
| Volkswagen | Jetta VI | Sedan | 2.5 |
| Volkswagen | Jetta VI | Sedan | GLI |
| Volkswagen | Jetta VI | Sedan | TDI |
| Volkswagen | Jetta VI | Sedan Facelift | 1.4T |
| Volkswagen | Jetta VI | Sedan Facelift | 1.4T Hybrid |
| Volkswagen | Jetta VI | Sedan Facelift | 1.8T Gen3 |
| Volkswagen | Jetta VI | Sedan Facelift | 2.0L |
| Volkswagen | Jetta VI | Sedan Facelift | 2.0T Gen3 GLI |
| Volkswagen | Jetta VI | Sedan Facelift | TDI |
| Volkswagen | Jetta VI | Sportwagen | 2.0T |
| Volkswagen | Jetta VI | Sportwagen | 2.5 |
| Volkswagen | Jetta VI | Sportwagen | TDI |
| Volkswagen | Jetta VI | Sedan | 1.4T Hybrid |
| Volkswagen | Jetta VI | Sedan | 1.8T Gen3 |
| Volkswagen | Jetta VI | Sedan | 2.0T Gen3 GLI |
| Volkswagen | Jetta VI | Sedan | 2.5 |
| Volkswagen | Jetta VI | Sedan | GLI |
| Volkswagen | Jetta VI | Sedan | TDI |
| Volkswagen | Jetta VI | Sedan Facelift | 1.4T |
| Volkswagen | Jetta VI | Sportwagen | 2.0T |
| Volkswagen | Jetta VI | Sportwagen | 2.5 |
| Volkswagen | Jetta VI | Sportwagen | TDI |
| Volkswagen | Passat B6 | FWD | 2.0T |
| Volkswagen | Passat B6 | FWD | 3.6L |
| Volkswagen | Passat B7 | FWD | 1.8T Gen3 |
| Volkswagen | Tiguan 1 | 4 Motion | 2.0T |
| Volkswagen | Tiguan 1 | FWD | 2.0T |
| Volkswagen | Tiguan 2 | 4 Motion | 2.0T |
| Volkswagen | Tiguan 2 | FWD | 2.0T |
*The above product applications have been written by ECS Tuning. All warranties, product application, fitment, and performance are the responsibility of ECS Tuning. For additional information see the terms of use.
Installation
others bought
recently viewed