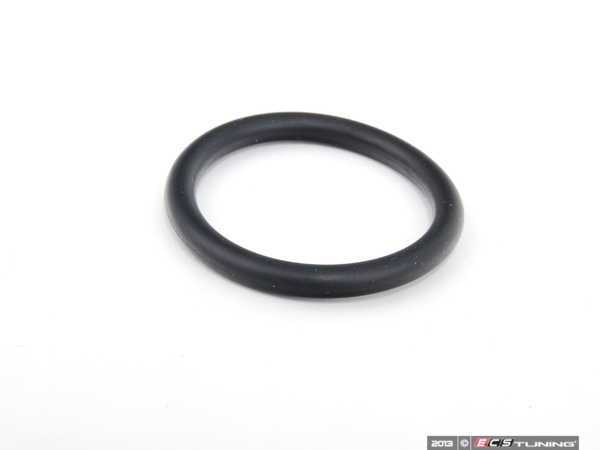 1.67

Free Shipping
on orders $49 and up
Auto Notify
Does this fit my vehicle?
Product Details
If the expansion tanks begins to overflow or you notice a residue of dried out coolant around the expansion tank, the seal on your cap may be faulty.
The caps seal is a rubber o-ring, that can start to shrink after the years from exposure to heat.
Seal up your coolant expansion tank with a new cap seal to keep coolant in the system.
This Part Fits the Following Vehicles
| Make | Model | Submodel | Engine |
| --- | --- | --- | --- |
| Audi | A3 8P | FWD | 2.0T |
| Audi | A3 8P | FWD | TDI |
| Audi | A3 8P | Quattro | 2.0T |
| Audi | A3 8P | Quattro | 3.2L |
| Audi | A3 8P | Quattro | V6 3.2L |
| Audi | A3 8V | FWD | 1.4 e-tron |
| Audi | A3 8V | FWD | 1.8T |
| Audi | A3 8V | FWD | TDI |
| Audi | A3 8V | Quattro | 2.0T |
| Audi | A7 | C7 | 3.0 TDI |
| Audi | A7 | C7 | 3.0T |
| Audi | All Road | All | 2.0T |
| Audi | All Road | All | 2.7T |
| Audi | All Road | All | 4.2L |
| Audi | B5 A4 | FWD | 1.8T |
| Audi | B5 A4 | FWD | V6 12v |
| Audi | B5 A4 | FWD | V6 30v |
| Audi | B5 A4 | Quattro | 1.8T |
| Audi | B5 A4 | Quattro | V6 12v |
| Audi | B5 A4 | Quattro | V6 30v |
| Audi | B5 S4 | All | 2.7T |
| Audi | B6 A4 | FWD | 1.8T |
| Audi | B6 A4 | FWD | V6 30v |
| Audi | B6 A4 | Quattro | 1.8T |
| Audi | B6 A4 | Quattro | V6 30v |
| Audi | B6 S4 | All | V8 |
| Audi | B7 A4 | FWD | 2.0T |
| Audi | B7 A4 | Quattro | 2.0T |
| Audi | B7 A4 | Quattro | V6 3.2L |
| Audi | B7 RS4 | All | V8 |
| Audi | B7 S4 | All | V8 |
| Audi | B8 A4 | FWD | 2.0T |
| Audi | B8 A4 | Quattro | 2.0T |
| Audi | B8 A4 | Quattro | V6 3.2L |
| Audi | B8 A5 | Quattro | 2.0T |
| Audi | B8 A5 | Quattro | V6 3.2L |
| Audi | B8 RS5 | All | 4.2L |
| Audi | B8 S4 | Quattro | 3.0T |
| Audi | B8 S5 | Quattro | 3.0T Cabriolet |
| Audi | B8 S5 | Quattro | 3.0T Coupe |
| Audi | B8 S5 | Quattro | V8 4.2L |
| Audi | C5 A6 | FWD | V6 2.8L |
| Audi | C5 A6 | FWD | V6 3.0L |
| Audi | C5 A6 | Quattro | 2.7T |
| Audi | C5 A6 | Quattro | 4.2 |
| Audi | C5 A6 | Quattro | V6 2.8L |
| Audi | C5 A6 | Quattro | V6 3.0L |
| Audi | C5 S6 | Quattro | 4.2 |
| Audi | C6 A6 | FWD | V6 3.2L |
| Audi | C6 A6 | Quattro | V6 3.2L |
| Audi | C6 A6 | Quattro | V8 4.2L |
| Audi | C6 S6 | All | V10 5.2L |
| Audi | C7 A6 | FWD | 2.0T |
| Audi | C7 A6 | FWD | V6 3.0T |
| Audi | C7 A6 | Quattro | 2.0T |
| Audi | C7 A6 | Quattro | 3.0 TDI |
| Audi | C7 A6 | Quattro | V6 3.0T |
| Audi | C7 S6 | Quattro | 4.0T |
| Audi | C7 S7 | Quattro | 4.0T |
| Audi | D3 A8 | Quattro | 4.2 |
| Audi | D3 A8 | Quattro | W12 |
| Audi | D3 S8 | Quattro | D3 V10 |
| Audi | D4 A8 | Quattro | 3.0 TDI |
| Audi | D4 A8 | Quattro | 3.0T |
| Audi | D4 A8 | Quattro | 4.0T |
| Audi | RS6 | All | 4.2T |
| Audi | TT MK II | All | 2.5T |
| Audi | TT MK II | TTRS | All |
| Audi | TT MKI | FWD | 180HP |
| Audi | TT MKI | Quattro | 180HP |
| Audi | TT MKI | Quattro | 225HP |
| Audi | TT MKI | Quattro | 3.2L |
| Audi | TT MKII | FWD | 2.0T |
| Audi | TT MKII | Quattro | 2.0T |
| Audi | TT MKII | Quattro | 3.2L |
| Audi | TTS | MK2 (2006-2013) | 2.0T |
| Volkswagen | 337/20AE | All | 1.8T |
| Volkswagen | Beetle | All | 2.0T |
| Volkswagen | Beetle | GTI | TDI |
| Volkswagen | Cabrio III | All | 2.0 |
| Volkswagen | Corrado | All | G60 |
| Volkswagen | Corrado | All | VR6 12v |
| Volkswagen | Eurovan T4 | All | 5cl Diesel |
| Volkswagen | Eurovan T4 | All | 5cyl |
| Volkswagen | Eurovan T4 | All | VR6 |
| Volkswagen | Eurovan T4 | All | VR6 12v |
| Volkswagen | Eurovan T4 | All | VR6 24v |
| Volkswagen | Golf I | Convertible | 8v |
| Volkswagen | Golf I | Convertible | Diesel |
| Volkswagen | Golf I | Pickup | 8v |
| Volkswagen | Golf I | Pickup | Diesel |
| Volkswagen | Golf I | Rabbit | 8v |
| Volkswagen | Golf I | Rabbit | Diesel |
| Volkswagen | Golf II | All | 16v |
| Volkswagen | Golf II | All | 8v |
| Volkswagen | Golf II | All | Diesel |
| Volkswagen | Golf III | All | 2.0 |
| Volkswagen | Golf III | All | TDI |
| Volkswagen | Golf III | All | VR6 12v |
| Volkswagen | Golf IV | All | 1.8T |
| Volkswagen | Golf IV | All | 2.0 |
| Volkswagen | Golf IV | All | TDI |
| Volkswagen | Golf IV | All | VR6 12v |
| Volkswagen | Golf IV | All | VR6 24v |
| Volkswagen | Golf V | All | 2.0T |
| Volkswagen | Golf V | All | 2.5 |
| Volkswagen | Golf V | All | TDI |
| Volkswagen | Golf VI | All | 2.0T |
| Volkswagen | Golf VI | All | 2.5 |
| Volkswagen | Golf VI | All | TDI |
| Volkswagen | Jetta I | All | 8v |
| Volkswagen | Jetta I | All | Diesel |
| Volkswagen | Jetta II | All | 16v |
| Volkswagen | Jetta II | All | 8v |
| Volkswagen | Jetta II | All | Diesel |
| Volkswagen | Jetta III | All | 2.0 |
| Volkswagen | Jetta III | All | TDI |
| Volkswagen | Jetta III | All | VR6 12v |
| Volkswagen | Jetta IV | All | 1.8T |
| Volkswagen | Jetta IV | All | 2.0 |
| Volkswagen | Jetta IV | All | TDI |
| Volkswagen | Jetta IV | All | VR6 12v |
| Volkswagen | Jetta IV | All | VR6 24v |
| Volkswagen | Jetta IV GLI | All | 1.8T |
| Volkswagen | Jetta V | All | 2.0T |
| Volkswagen | Jetta V | All | 2.5 |
| Volkswagen | Jetta V | All | TDI |
| Volkswagen | Jetta VI | Sedan | 1.4T Hybrid |
| Volkswagen | Jetta VI | Sedan | 1.8T Gen3 |
| Volkswagen | Jetta VI | Sedan | 2.0 |
| Volkswagen | Jetta VI | Sedan | 2.0T Gen3 GLI |
| Volkswagen | Jetta VI | Sedan | 2.5 |
| Volkswagen | Jetta VI | Sedan | GLI |
| Volkswagen | Jetta VI | Sedan | TDI |
| Volkswagen | Jetta VI | Sedan Facelift | 1.4T |
| Volkswagen | Jetta VI | Sedan Facelift | 1.4T Hybrid |
| Volkswagen | Jetta VI | Sedan Facelift | 1.8T Gen3 |
| Volkswagen | Jetta VI | Sedan Facelift | 2.0L |
| Volkswagen | Jetta VI | Sedan Facelift | 2.0T Gen3 GLI |
| Volkswagen | Jetta VI | Sedan Facelift | TDI |
| Volkswagen | Jetta VI | Sportwagen | 2.0T |
| Volkswagen | Jetta VI | Sportwagen | 2.5 |
| Volkswagen | Jetta VI | Sportwagen | TDI |
| Volkswagen | Passat B5 | 4 Motion | 1.8T |
| Volkswagen | Passat B5 | 4 Motion | V6 30v |
| Volkswagen | Passat B5 | 4 Motion | W8 |
| Volkswagen | Passat B5 | FWD | 1.8T |
| Volkswagen | Passat B5 | FWD | TDI |
| Volkswagen | Passat B5 | FWD | V6 30v |
| Volkswagen | Passat B6 | 4 Motion | 3.6L |
| Volkswagen | Passat B6 | FWD | 2.0T |
| Volkswagen | Passat B6 | FWD | 3.6L |
| Volkswagen | R32 MKIV | All | 3.2 |
| Volkswagen | R32 MKV | All | 3.2 |
| Volkswagen | Scirocco I | All | 8v |
| Volkswagen | Scirocco II | All | 16v |
| Volkswagen | Scirocco II | All | 8v |
*The above product applications have been written by ECS Tuning. All warranties, product application, fitment, and performance are the responsibility of ECS Tuning. For additional information see the terms of use.
others bought
recently viewed