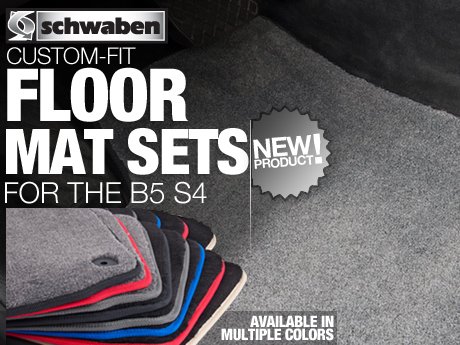 Audi B5 A4 / S4 Schwaben Floor Mat Set
If you don't want to be left with worn out carpet that looks like it was created years before your car was, it might be time to invest in some new floor mats from Schwaben. Unlike those pathetic floor mats that you'll find at retail stores, these Schwaben mats were made to fit your vehicle, as they retain the same mounting as a factory direct mat. With all of the available color options with carpet color and piping, you can give your vehicle a stock appearance or add a splash of contrasting color. With these mats in place, you won't have to worry about your carpet's current state.
Please check the retainer shape prior to ordering to ensure the proper retainer shape.
Floor Mat Set - Black / Black Piping - Oval Retainers
Color Matched Mats To Complete Your Interior
Brand:

ES#: 2200710
Mfg#: 8D0898008
No longer available
Floor Mat Set - Black / Black Piping - Round Retainers
High Quality Mats To Protect Your Interior
Brand:

ES#: 2200711
Mfg#: 8D0898008
No longer available
Floor Mat Set - Black / Red Piping - Oval Retainers
Factory Fit Without the Factory Price
Brand:

ES#: 2200712
Mfg#: 8D0898009
No longer available
Floor Mat Set - Black / Red Piping - Round Retainers
Color Matched Mats To Complete Your Interior
Brand:

ES#: 2200713
Mfg#: 8D0898009
No longer available
Floor Mat Set - Grey / Grey Piping - Oval Retainers
High Quality Mats To Protect Your Interior
Brand:

ES#: 2200714
Mfg#: 8D0898011
No longer available
Floor Mat Set - Grey / Grey Piping - Round Retainers
High Quality Mats To Protect Your Interior
Brand:

ES#: 2200715
Mfg#: 8D0898011
No longer available
Floor Mat Set - Grey / Black Piping - Oval Retainers
Factory Fit Without the Factory Price
Brand:

ES#: 2200716
Mfg#: 8D0898012
No longer available
Floor Mat Set - Grey / Black Piping - Round Retainers
Color Matched Mats To Complete Your Interior
Brand:

ES#: 2200718
Mfg#: 8D0898012
No longer available
Floor Mat Set - Grey / Red Piping - Oval Retainers
High Quality Mats To Protect Your Interior
Brand:

ES#: 2200719
Mfg#: 8D0898013
No longer available
Floor Mat Set - Grey / Red Piping - Round Retainers
High Quality Mats To Protect Your Interior
Brand:

ES#: 2200721
Mfg#: 8D0898013
No longer available