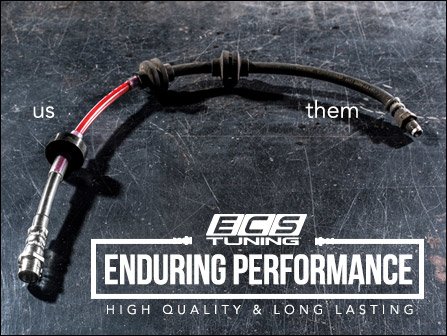 Audi B9 A4 ECS Exact-Fit Brake Lines
Introducing ECS Exact-Fit stainless reinforced brake lines for your Audi B9 A4. Providing more confident and dependable stopping by maintaining consistent brake pressure, long lasting corrosion resistance, and increased protection from failure.
Factory style fabric mesh lined rubber hoses are prone to expansion under the pressure of hard braking. ECS Tuning's Exact-Fit lines are engineered and assembled with braided stainless steel mesh and offer superior expansion resistance and reinforcement. The resistance to expansion creates a firmer pedal, and a more direct pedal feel.
Enduring Performance
Fits:
Audi B9 A4 2.0T 2017+
Front Exact-Fit Stainless Steel Brake Lines
Front set of DOT-compliant lines for an improved pedal feel
Brand:

ES#: 3171182
Mfg#: 019318ECS01A
No longer available
Rear Exact-Fit Stainless Steel Brake Line - Each - (NO LONGER AVAILABLE)
Rear set of DOT-compliant lines for an improved pedal feel
Brand:

ES#: 3171181
Mfg#: 019318ECS02A
No longer available