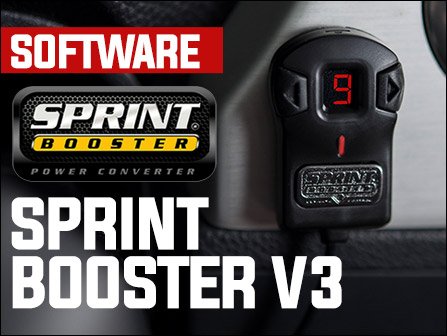 Audi Sprint Booster V3 Power Converter
The all new V3 Sprint Booster model is a definitive step up! The device comes with 36 acceleration programs in total (18 manual and 18 automatic), ensuring flexibility and overall control during acceleration.

The same unit now works for both automatic and manual transmission models. Special features include Valet mode (to limit acceleration rate) and Pedal Lock Mode (disable the accelerator pedal). New and Improved, ultra compact, with plug-n-play installation—What more could you ask for?!
New & Improved!
Fits:
Your High Performance Audi
Sprint Booster V3 Power Converter
Reduces the delay of your "Drive by Wire" throttle response - All new V3 model provides additional features such as 'valet' and 'pedal lock' modes
Fits B8 A4, B8 A5, B8 S4, B8 S5, B8 RS5, C6 A6, C6 S6, All Road, 8P A3, MK2 TT

Sprint Booster V3 Power Converter
Reduces the delay of your "Drive by Wire" throttle response - All new V3 model provides additional features such as 'valet' and 'pedal lock' modes
Fits D3 A8

Sprint Booster V3 Power Converter
Reduces the delay of your "Drive by Wire" throttle response - All new V3 model provides additional features such as 'valet' and 'pedal lock' modes
Fits Q7

Sprint Booster V3 Power Converter
Reduces the delay of your "Drive by Wire" throttle response - All new V3 model provides additional features such as 'valet' and 'pedal lock' modes
Fits B5 A4, B5 S4, B6 A4, B6 S4, B7 A4, B7 S4, B7 RS4, C5 A6

Sprint Booster V3 Power Converter
Reduces the delay of your "Drive by Wire" throttle response - All new V3 model provides additional features such as 'valet' and 'pedal lock' modes
Fits Q3 and Q5

Sprint Booster V3 Power Converter
Reduces the delay of your "Drive by Wire" throttle response - All new V3 model provides additional features such as 'valet' and 'pedal lock' modes
Fits 8V A3, 8V S3, A7, C7 S7

Sprint Booster V3 Power Converter
Reduces the delay of your "Drive by Wire" throttle response - All new V3 model provides additional features such as 'valet' and 'pedal lock' modes
Fits C6 A6 and C6 S6