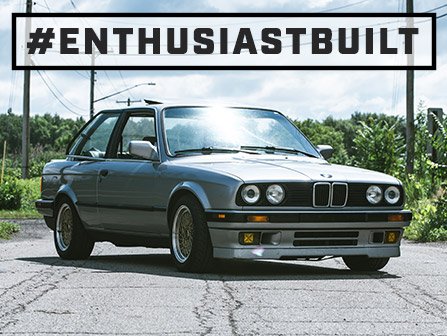 Chris's BMW E30 325is Build List
When I was 17, I went to look at a 1984 318i with my father. I didn't know how to drive stick at the time, so he test drove it on my behalf, and loved it. Despite making barely 100hp decades prior, he enjoyed the driving engagement, and how solid and well-built it felt. Since then, my family has owned numerous E30s, including my current daily 325is. I bought this in 2018 as a project with 320k miles; at that time the hood wouldn't even open. Many hours were spent refreshing and enhancing the driving enjoyment. Now she soldiers on with 357k miles, and no signs of stopping.
NO IG BECAUSE HE LIVES UNDER A ROCK FROM THE 80s
BMW E30 325is Build List
E30 Bilstein and H&R Sport Suspension Package
H&R Sport springs lower the ride height by 1.25" and stiffens the spring rate.
Brand:

ES#: 3026611
Mfg#: E30SPORT
No longer available
Choose how many gift cards you would like below. You can set the denomination in your cart during checkout.
Availability:
Inventory On Order, ETA Nov 24, 2021
Auto Notify
Complete Rear Upper Shock Mounting Kit
Everything you need to perform an easy suspension upgrade
Including upgraded German-made Lemfoerder mounts from the E46 M3 convertible and heavy duty ECS reinforcement plates