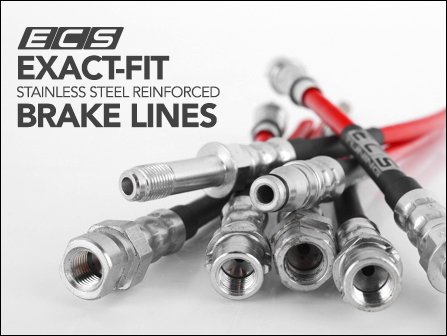 BMW E60/61 5 Series ECS Exact-Fit Brake Lines
ECS Exact-Fit stainless reinforced brake lines provide more confident and dependable stopping by maintaining consistent brake pressure, long lasting corrosion resistance, and increased protection from failure.

Even when new, factory style fabric mesh lined rubber hoses are prone to expansion under the pressure of hard braking, whether it be highway panic stops or threshold braking at the track.

ECS lines are braided with stainless steel mesh, affording expansion resistance. This resistance to expansion creates a firmer pedal, and more direct pedal feel for your BMW.
Corrosion Protection
Fits:
BMW
550i (2008-2010)
545i (2004-2007)
535i (2007-2010)
530i (2004-2006)
528i (2007-2010)
525i (2004-2006)
Choose how many gift cards you would like below. You can set the denomination in your cart during checkout.
$122.95

Free Shipping