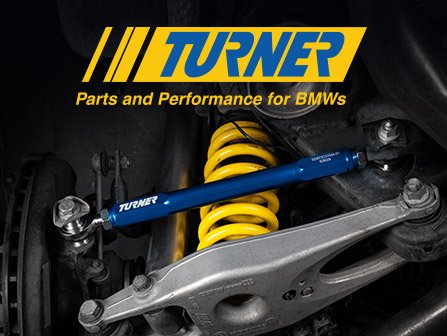 Turner Rear Adjustable Toe Arms - E9X M3
On your E90, E91, E92, or E93, your rear toe arms are fixed. This is fine for your BMW if your suspension is stock, but as soon as you lower it, you are going to be out of spec. With the new Turner Motorsport Rear Adjustable Toe Arms, you can bring you suspension settings back into spec even with an extremely lowered vehicle. These arms are critical if you want to maximize the effectiveness of your BMW's handling and prevent premature wear.
Turner Rear Adjustable Toe Arms - E9X M3
Fits BMW E9X M3
Adjustable Toe Arms
Eliminates the factory eccentric toe adjustment point and eliminates any unwanted movement. Easy to adjust turn buckles and rod ends increase your range of toe adjustment in the rear.
Choose how many gift cards you would like below. You can set the denomination in your cart during checkout.
Availability:
Ships in 3 Business Days
Starting at$284.95

Free Shipping
on orders $49 and up