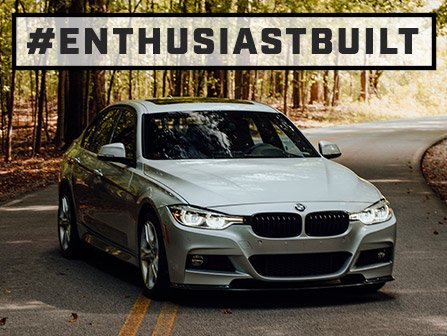 Dave's F30 340i xDrive Build List
I've wanted to own a BMW since I was a little kid. They've always struck me as the perfect combo of luxury and performance. After years of forcing myself to buy "practical" cars, I finally started looking for a 2017 F30 340i XDrive. I stumbled upon one at a local dealer in Glacier Silver Metallic with a red interior and it still makes me smile every time I look at it. So far I've done some basic mods (intake, flush kit, charge pipe, front lip, blackout grilles). Next up is probably a skid plate. After that, who knows?
BMW F30 340i xDrive
F30 Flush Kit - Front And Rear
Bring your stock wheels to the "flush" position. This flush kit will widen your track width and remove that unsightly tire edge gap while still allowing enough clearance for lowered applications
Choose how many gift cards you would like below. You can set the denomination in your cart during checkout.