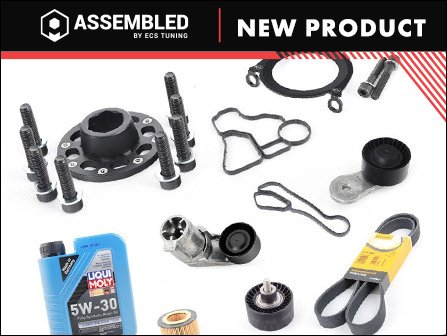 New Assembled By ECS S55 Bulletproof Crank Kits
BMW's legendary turbocharged engines like the S55 are capable of incredible power with simple bolt-ons, make incredible turbo noises, and offer that unbeatable straight-six smoothness. However, they have more than one Achilles heel: the crank hub tends to back out, the drive belt likes to suck itself into the front main seal, and the oil filter housing tends to be incontinent. That's why we've put together S55 Bulletproof Kits for your BMW! Make sure your turbocharged BMW stays safe at any power level for years with our carefully selected protection kits.
New Assembled By ECS S55 Bulletproof Crank Kits
For your S55 BMW
S55 "Bulletproof" Crank Kit
...or at least as "Bulletproof" as your F8X S55 will ever be! Includes a crank bolt capture kit, crank seal plate, oil filter housing gaskets, and all of the components required to perform this upgrade service.
Choose how many gift cards you would like below. You can set the denomination in your cart during checkout.
Availability:
Inventory On Order, ETA Jul 8, 2021
Auto Notify
S55 Billet Crank Hub
When looking for a replacement crankhub to build up your S55 motor, RK Autowerks can deliver the level of quality and performance that you are looking for!