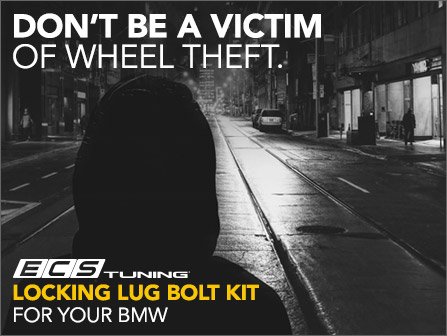 ECS Locking lug bolt kit M14X1.25
When you own a BMW there is a lot to take pride in, the styling, power, and driving experience. What you don't want to happen is someone tampering with that pride.

This is the reason we developed our own style of locking wheel bolts, so you don't ever come out to you wheels missing.

Designed similar to the stock wheel bolts and black zinc coated, to add security without tampering with the look of your BMW.
Lock them up.
Fits BMW:
F25 X3 (2011+)
F26 X4 (2015+)
E70 X5 (2007-2013)
F15 X5 (2014+)
F85 X5 M (2015+)
F16 X6 (2015+)
F86 X6 M (2015+)
F86 X6 M (2015+)
F22/F23 2 Series (2014+)
F30/F31/F34/F80 3 Series (2013+)
F32/F33/F36/F82/F83 4 Series (2014+)
F07/F10 5 Series (2010+)
F06/F12/F13 6 Series (2013+)
F01/F02 7 Series (2009-2015)
G11 7 Series (2016+)
I01 i3 (2014+)
I12 i8 (2014+)