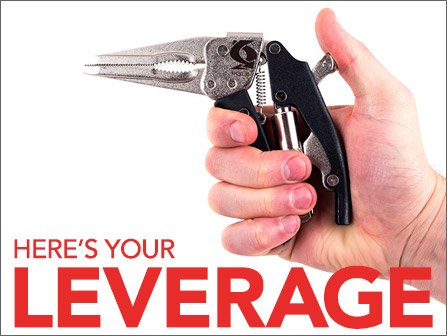 Schwaben Pistol Grip Locking Pliers
Everyone has been in a situation where they are trying to use a pair of pliers but there just not enough space to work with. Schwaben realizing this issue has found a solution to most circumstances, the pistol grip locking pliers.

This design allows for clearance in tighter quarters without losing the locking force required to grip on and a hammer-like release for maximum usability.

Convenience in the grip of your hand.

Here's Your Leverage
Fits:
The palm of your hand
Choose how many gift cards you would like below. You can set the denomination in your cart during checkout.
Availability:
Inventory On Order, ETA Feb 2, 2022
Auto Notify
Schwaben 6" Pistol Grip Locking Pliers - (NO LONGER AVAILABLE)
You will fall in love with these locking pliers, because they work better in tight quarters.
Brand:

ES#: 2952261
Mfg#: 014565SCH01A
No longer available