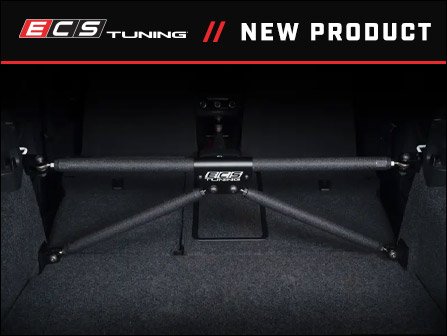 New ECS Rear Stress Bars For Your MK5/6
Our ECS Tuning Rear Stress Bar Kit stiffens the chassis in the rear of your MK5/6 in the area most prone to chassis flex during hard cornering or changes in road surfaces. Our Stress Bar helps to stiffen the rear chassis from undesired torsional flexing of the body which allows for faster turn-in speed and flatter cornering, while reducing chassis creaks and groans.

Our Rear Stress Bar Kit achieves all of these great benefits while maintaining functionality with the rear seatbacks in all positions, & no noticeable increase in NVH.
Stiffen Up
Fits: Volkswagen
MK5 Golf (2006-2009)
MK5 GTI (2006-2009)
MK5 R32 (2008)
MK6 Golf R (2012-2013)
MK6 GTI (2010-2014)