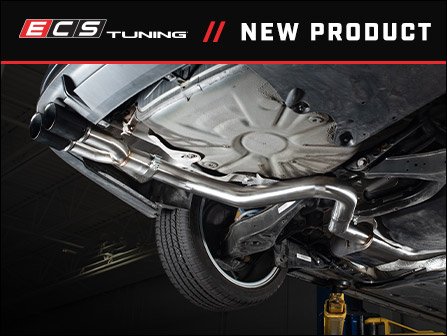 NEW ECS MK6 Jetta 1.8T/2.0T 3.0" Exhaust
True automotive passion comes in many forms. For us, we've found driving euphoria with our in-house engineered ECS Tuning Valved and Non-Valved Catback Exhaust Systems.

Enjoy your 2012 - 2018 Volkswagen Jetta 1.8T or Jetta 2.0T GLI with the most engaging, race-inspired, performance exhaust system. Intoxicating exhaust notes fuel your desire to push your engine to its limits with every ounce of power and every engine revolution. Experience your driving passion with our ECS Exhaust System.
Sound Up
Fits:
Jetta VI Sedan 1.8T Gen3
Jetta VI Sedan Facelift 1.8T Gen3
Jetta VI Sedan 2.0T Gen3 GLI
Jetta VI Sedan Facelift 2.0T Gen3 GLI

Choose how many gift cards you would like below. You can set the denomination in your cart during checkout.
Starting at

$580.91

Free Shipping