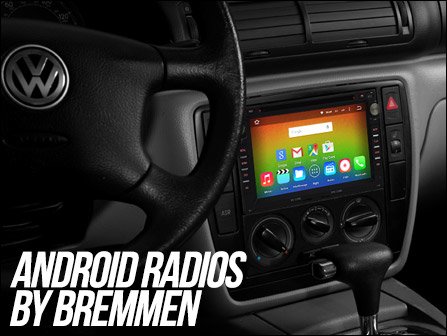 New Android Radios By Bremmen For your VW MK4 & B5
Aftermarket radios are rarely a plug and play operation. Usually requiring extensive wiring, a dash trim kit, and rarely maintains steering wheel control capabilities.

Bremmen is proud to offer a direct-fit "smart" head unit that alleviates the issues with universal radios. Bremmen's Android Multimedia System features an 8" touch screen that fits your dash to perfection. The included wiring harness allows for a plug and play install, containing a Can-Bus module to allow communication of the lights, ignition, and enables steering wheel controls.
Plug and play
Fits:
VW MK4 Jetta (1999 - 2005)
VW MK4 Golf (1999 - 2005)
VW 337/20th (2002 - 2003)
VW MK4 R32 (2004)
VW B5 Passat (1998 - 2005)