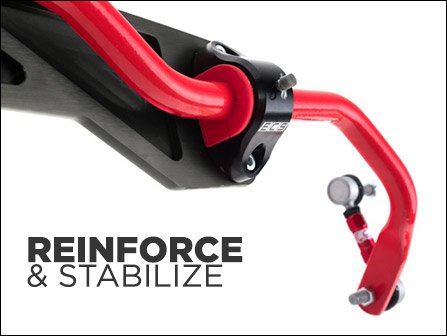 New ECS Rear Subframe Brace MK5/6/7
The factory rear subframes in the VW MK5, MK6, and MK7 are perfectly capable of withstanding everyday commutes but are woefully ill-prepared to handle beefier sway bars, stiffer suspension components, and aggressive driving.

We found a sturdier solution: With the ECS Rear Subframe Brace you can reinforce the subframe at the sway mounting points to ensure the added pressures of hard driving and stiffer components will be deflected through our brace rather than deflecting the rear subframe.
We found a sturdier solution
Fits:
VW MK5 GTI/Rabbit/Jetta (2005 - 2010)
VW MK6 Golf/GTI/JSW (2010 - 2014)
VW MK6 Jetta w/ Independent Rear Suspension (2011+)
VW MK7 Golf/GTI/GSW (FWD) w/ Independent Rear Suspension (2015+)
VW CC (2009-2017)
VW B6 Passat (2006 - 2010)
VW B7 Passat (2012+)
VW Tiguan (2009+)
VW Beetle (2012+)
VW EOS (2007-2016)

ECS Tuning Rear Suspension Package
Corner flatter, pivot faster and hold the road tighter with this rear Suspension Package! Choose options such as Adj. or Non-Adj. 23mm Sway Bar, Adj. End Links and our Billet Chassis Brace!
Choose how many gift cards you would like below. You can set the denomination in your cart during checkout.
Starting at$175.70

Free Shipping