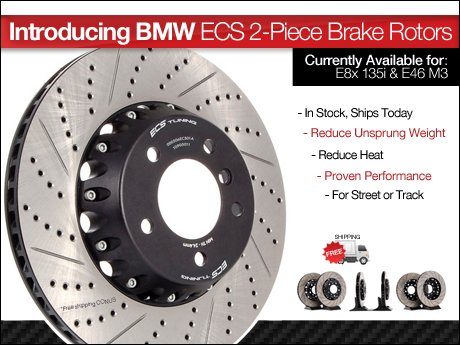 ECS BMW 2-Piece Rotors
Light on weight. Long on looks. Our new 2-Piece rotors combine the natural advantages of a cast iron braking surface with the weight savings and rapid heat dissipation of an aluminum hat.

Drilled and slotted to keep the swept area cool and clean, our lightweight vented rotors reduce unsprung weight to improve both braking and suspension performance.

ECS Tuning 2-Piece rotors are direct bolts on that work with factory and many aftermarket brake components; no mods required.
Stop with Style
Fits BMW:
E46 M3 (1999-2005)
E90 325i/328i/330i (2006-2011)
E91 325i/328i (2006-2011)
E92 328i (2006-2011)
E93 328i (2006-2011)
E82 128i/135i (2008+)
E88 128i/135i (2008+)