---
Choose-Your-Size Billet Rear Sway Bar Mounting Kit
Enhance your rear sway bar performance with our Billet and Polyurethane sway bar mounting solution
Choose-Your-Size Billet Rear Sway Bar Mounting Kit
Starting at: $

79.78
79.78

Free Shipping
Availability:
Expected Ship Date: Apr 23, 2021
Select Options
all options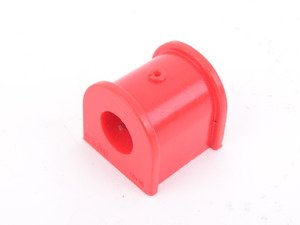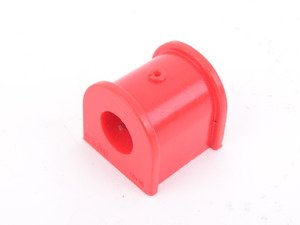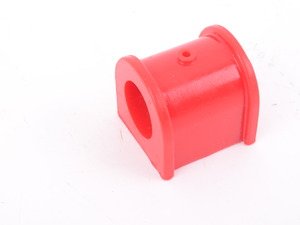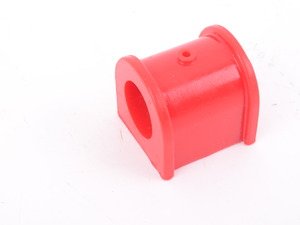 Product Details
     The ECS Tuning Billet Rear Sway Bar Mounting Kit will provide your vehicle with a more rigid mounting solution from the sway bar to chassis than the OEM steel brackets. With an improved sway bar mounting bracket and the included polyurethane sway bar bushings you can expect to achieve an increase in rear sway bar effectiveness and less body roll as a result. 
PART DESIGN
The rear sway bar mounting brackets are made from a chunk of 6061-T6 billet aluminum that are precision CNC-machined to bolt into the OEM mounting location while utilizing greaseable, polyurethane bushings. They are Type II black anodized for corrosion protection and include zinc flake coated Class 12.9 alloy steel bolts for premium performance. 

The red polyurethane bushings feature a greasable channel for extended service life and quieter operation than standard polyurethane bushings. 
PERFORMANCE FEATURES
With our billet & poly mounts replacing the OEM steel & rubber configuration you can expect faster reaction speed and greater effectiveness from your rear sway bar due to less deflection. This translates to better handling with sharper, flatter cornering with reduced body roll. 
PRODUCT DEVELOPMENT
Our ECS Billet Rear Sway Bar Mounting Kit was designed, engineered, tested and quality inspected by our Research and Development team in our Wadsworth, Ohio facility. We ensured the highest level of precision and quality is delivered throughout rigorous long term product testing and leading edge product development methods.
INSTALLATION AND SUPPORT
Installation is simple. Simply unbolt your rear sway bar mounting brackets and slip over our poly bushings and billet mounting brackets with the included hardware. That's it! Enjoy better handling and a crisp rear suspension. 

SPECIAL NOTE: Please measure your rear sway bar with a trusted caliper before ordering. If a measurement is found within approximately half-way in between sizes we recommend rounding to the nearest dimension. Example: Measurement of 24.4mm sway bar OD -- Order 24mm bushings. 
Previous Revisions
This Part Fits the Following Vehicles
| Make | Model | Submodel | Engine |
| --- | --- | --- | --- |
| All | All | All | All |
| Volkswagen | Alltrack | All | 1.8T Gen3 |
| Volkswagen | Beetle | All | 1.8T Gen3 |
| Volkswagen | Beetle | All | 2.0T |
| Volkswagen | Beetle | All | 2.0T Gen3 |
| Volkswagen | Beetle | All | TDI |
| Volkswagen | CC | 4Motion | VR6 |
| Volkswagen | CC | FWD | 2.0T |
| Volkswagen | CC | FWD | VR6 |
| Volkswagen | EOS | All | 2.0T |
| Volkswagen | EOS | All | 3.2L |
| Volkswagen | Golf R | All | 2.0T |
| Volkswagen | Golf V | All | 2.0T |
| Volkswagen | Golf V | All | 2.5 |
| Volkswagen | Golf V | All | TDI |
| Volkswagen | Golf VI | All | 2.0T |
| Volkswagen | Golf VI | All | 2.5 |
| Volkswagen | Golf VI | All | TDI |
| Volkswagen | Golf VII | Hatchback | 2.0T Gen3 |
| Volkswagen | Golf VII | Sportwagen | 1.8T Gen3 |
| Volkswagen | Golf VII Facelift | FWD | 1.4T |
| Volkswagen | Golf VII Facelift | FWD | 1.8T Gen3 |
| Volkswagen | Golf VII Facelift | FWD | 2.0T Gen3 |
| Volkswagen | Golf VII R | 4Motion | 2.0T Gen3 |
| Volkswagen | Golf VII R Facelift | 4Motion | 2.0T Gen3 |
| Volkswagen | Golf VII SportWagen Facelift | 4Motion | 1.8T Gen3 |
| Volkswagen | Golf VII SportWagen Facelift | FWD | 1.4T |
| Volkswagen | Golf VII SportWagen Facelift | FWD | 1.8T Gen3 |
| Volkswagen | Jetta V | All | 2.0T |
| Volkswagen | Jetta V | All | 2.5 |
| Volkswagen | Jetta V | All | TDI |
| Volkswagen | Jetta VI | Sedan | 1.4T Hybrid |
| Volkswagen | Jetta VI | Sedan | 1.8T Gen3 |
| Volkswagen | Jetta VI | Sedan | 2.0 |
| Volkswagen | Jetta VI | Sedan | 2.0T Gen3 GLI |
| Volkswagen | Jetta VI | Sedan | GLI |
| Volkswagen | Jetta VI | Sedan | TDI |
| Volkswagen | Jetta VI | Sedan Facelift | 1.4T |
| Volkswagen | Jetta VI | Sedan Facelift | 1.4T Hybrid |
| Volkswagen | Jetta VI | Sedan Facelift | 1.8T Gen3 |
| Volkswagen | Jetta VI | Sedan Facelift | 2.0L |
| Volkswagen | Jetta VI | Sedan Facelift | 2.0T Gen3 GLI |
| Volkswagen | Jetta VI | Sedan Facelift | TDI |
| Volkswagen | Jetta VI | Sportwagen | 2.5 |
| Volkswagen | Jetta VI | Sportwagen | TDI |
| Volkswagen | Passat B6 | 4 Motion | 3.6L |
| Volkswagen | Passat B6 | FWD | 2.0T |
| Volkswagen | Passat B6 | FWD | 3.6L |
| Volkswagen | Passat B7 | FWD | 1.8T Gen3 |
| Volkswagen | Passat B7 | FWD | 2.0T Gen3 |
| Volkswagen | R32 MKV | All | 3.2 |
| Volkswagen | Tiguan 1 | 4 Motion | 2.0T |
| Volkswagen | Tiguan 1 | FWD | 2.0T |
| Volkswagen | Tiguan 2 | 4 Motion | 2.0T |
| Volkswagen | Tiguan 2 | FWD | 2.0T |
*The above product applications have been written by ECS Tuning. All warranties, product application, fitment, and performance are the responsibility of ECS Tuning. For additional information see the terms of use.
others bought
recently viewed