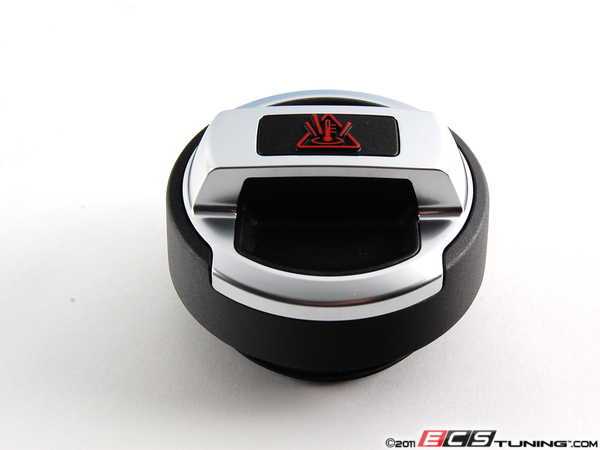 104.95

Free Shipping
Does this fit my vehicle?
Product Details
Sourced from the Halo Car Audi R8 this coolant cap adds a unique styling touch that will give your engine bay a whole new character. Replace your blue coolant cap with this polished aluminum upgrade.
Often times, the coolant is not kept under enough pressure to keep it from boiling or expanding too much. This cap keeps all the heat and liquid inside the coolant system for maximum efficiency. Should be replaced each time major coolant system service is performed.
Dress up your engine bay and return functionality with a new coolant cap.
This Part Fits the Following Vehicles
| Make | Model | Submodel | Engine |
| --- | --- | --- | --- |
| Audi | All | All | 1.8T |
| Audi | All | All | 180HP |
| Audi | All | All | 2.0T |
| Audi | All | All | 2.7T |
| Audi | All | All | 225HP |
| Audi | All | All | TDI |
| Audi | All | All | V6 12v |
| Audi | All | All | V6 30v |
| Audi | B6 S4 | All | V8 |
| Audi | B7 RS4 | All | V8 |
| Audi | B7 S4 | All | V8 |
| Audi | C6 A6 | FWD | V6 3.2L |
| Audi | C6 A6 | Quattro | V6 3.2L |
| Audi | C6 A6 | Quattro | V8 4.2L |
| Audi | C7 A6 | FWD | 2.0T |
| Audi | C7 A6 | FWD | V6 3.0T |
| Audi | C7 A6 | Quattro | 2.0T |
| Audi | C7 A6 | Quattro | 3.0 TDI |
| Audi | C7 A6 | Quattro | V6 3.0T |
| Audi | C7 S6 | Quattro | 4.0T |
| Audi | D3 A8 | Quattro | 4.2 |
| Audi | MK1 R8 | Quattro | V8 4.2L |
| Audi | Q5 | GTI | 3.0T |
| Audi | Q5 | Quattro | 2.0T |
| Audi | Q5 | Quattro | 3.0 TDI |
| Audi | Q5 | Quattro | 3.2L |
| Audi | Q7 | GTI | 3.0T |
| Audi | RS6 | All | 4.2T |
| Audi | RS7 | GTI | 4.0T |
| Audi | SQ5 | GTI | 3.0T |
| Audi | TT MKI | FWD | 180HP |
| Audi | TT MKI | Quattro | 180HP |
| Audi | TT MKI | Quattro | 225HP |
| Audi | TT MKI | Quattro | 3.2L |
| Audi | TT MKII | FWD | 2.0T |
| Audi | TT MKII | Quattro | 2.0T |
| Audi | TT MKII | Quattro | 3.2L |
| Audi | TT MKII | TTS | 2.0T |
| Porsche | Cayenne | Base | V6 3.2L |
| Porsche | Cayenne | Base | V6 3.6L M55.01 |
| Porsche | Cayenne | Base | V6 3.6L M55.02 |
| Porsche | Cayenne | Diesel | V6 3.0L MCN.RB |
| Porsche | Cayenne | GTS | V8 4.8L M48.01 |
| Porsche | Cayenne | GTS | V8 4.8L M48.02 |
| Porsche | Cayenne | GTS | V8 4.8L M48.20 |
| Porsche | Cayenne | GTS | V8 4.8L M48.40 |
| Porsche | Cayenne | GTS | V8 4.8L M48.51 |
| Porsche | Cayenne | GTS | V8 4.8L M48.52 |
| Porsche | Cayenne | GTS | V8 4.8L M48.70 |
| Porsche | Cayenne | S | V6 Turbo 3.6L MCU.RA |
| Porsche | Cayenne | S | V8 4.5L |
| Porsche | Cayenne | S | V8 4.8L M48.01 |
| Porsche | Cayenne | S | V8 4.8L M48.02 |
| Porsche | Cayenne | S | V8 4.8L M48.20 |
| Porsche | Cayenne | S | V8 4.8L M48.40 |
| Porsche | Cayenne | S | V8 4.8L M48.51 |
| Porsche | Cayenne | S | V8 4.8L M48.52 |
| Porsche | Cayenne | S | V8 4.8L M48.70 |
| Porsche | Cayenne | S Hybrid | V6 3.0L M06.EC |
| Porsche | Cayenne | S Hybrid | V6 3.0L MCG.FA |
| Porsche | Cayenne | Turbo | V8 4.5L |
| Porsche | Cayenne | Turbo | V8 4.8L M48.01 |
| Porsche | Cayenne | Turbo | V8 4.8L M48.02 |
| Porsche | Cayenne | Turbo | V8 4.8L M48.20 |
| Porsche | Cayenne | Turbo | V8 4.8L M48.40 |
| Porsche | Cayenne | Turbo | V8 4.8L M48.51 |
| Porsche | Cayenne | Turbo | V8 4.8L M48.52 |
| Porsche | Cayenne | Turbo | V8 4.8L M48.70 |
| Porsche | Cayenne | Turbo | V8 4.8L MCF.TB |
| Porsche | Cayenne | Turbo S | V8 4.5L |
| Porsche | Cayenne | Turbo S | V8 4.8L M48.01 |
| Porsche | Cayenne | Turbo S | V8 4.8L M48.02 |
| Porsche | Cayenne | Turbo S | V8 4.8L M48.20 |
| Porsche | Cayenne | Turbo S | V8 4.8L M48.40 |
| Porsche | Cayenne | Turbo S | V8 4.8L M48.51 |
| Porsche | Cayenne | Turbo S | V8 4.8L M48.52 |
| Porsche | Cayenne | Turbo S | V8 4.8L M48.70 |
| Porsche | Panamera | 4 | V6 3.6L M46.40 |
| Porsche | Panamera | 4 | V6 3.6L MCW.AA |
| Porsche | Panamera | 4S | V8 4.8L M48.40 |
| Porsche | Panamera | 4S | V8 4.8L MCW.DA |
| Porsche | Panamera | 4S Executive | V8 4.8L MCW.DA |
| Porsche | Panamera | Base | V6 3.6L M46.20 |
| Porsche | Panamera | Base | V6 3.6L MCW.AA |
| Porsche | Panamera | GTS | V8 4.8L M48.40 |
| Porsche | Panamera | GTS | V8 4.8L MCX.PA |
| Porsche | Panamera | Hybrid | V6 3.0L MCG.EA |
| Porsche | Panamera | Hybrid | V6 3.0L MCG.FA |
| Porsche | Panamera | S | V6 3.0L MCW.DA |
| Porsche | Panamera | S | V8 4.8L M48.20 |
| Porsche | Panamera | S | V8 4.8L MCW.DA |
| Porsche | Panamera | S E Hybrid | V6 3.0L MCG.FA |
| Porsche | Panamera | S Executive | V6 3.0L MCW.DA |
| Porsche | Panamera | Turbo | V8 4.8L M48.70 |
| Porsche | Panamera | Turbo | V8 4.8L MCW.BA |
| Porsche | Panamera | Turbo Executive | V8 4.8L MCW.BA |
| Porsche | Panamera | Turbo S | V8 4.8L M48.70 |
| Porsche | Panamera | Turbo S | V8 4.8L MCW.CA |
| Porsche | Panamera | Turbo S Executive | V8 4.8L MCW.CA |
| Volkswagen | All | All | 1.8T |
| Volkswagen | All | All | 2.0T |
| Volkswagen | All | All | 2.5 |
| Volkswagen | All | All | 2.5L |
| Volkswagen | All | All | TDI |
| Volkswagen | All | All | V6 30v |
| Volkswagen | All | All | VR6 24v |
| Volkswagen | Alltrack | All | 1.8T Gen3 |
| Volkswagen | Golf IV | All | 2.0 |
| Volkswagen | Golf IV | All | VR6 12v |
| Volkswagen | Golf VII | GTI | 1.8T Gen3 |
| Volkswagen | Golf VII | GTI | 2.0T Gen3 |
| Volkswagen | Golf VII | GTI | e-Golf |
| Volkswagen | Golf VII | GTI | TDI |
| Volkswagen | Golf VII | Hatchback | 1.8T Gen3 |
| Volkswagen | Golf VII | Hatchback | TDI |
| Volkswagen | Golf VII | Sportwagen | 1.8T Gen3 |
| Volkswagen | Golf VII | Sportwagen | TDI |
| Volkswagen | Golf VII R | GTI | 2.0T Gen3 |
| Volkswagen | Jetta IV | All | 2.0 |
| Volkswagen | Jetta IV | All | VR6 12v |
| Volkswagen | Jetta VI | Sedan | 1.4T Hybrid |
| Volkswagen | Jetta VI | Sedan | 1.8T Gen3 |
| Volkswagen | Jetta VI | Sedan | 2.0 |
| Volkswagen | Jetta VI | Sedan | 2.0T Gen3 GLI |
| Volkswagen | Jetta VI | Sedan | 2.5 |
| Volkswagen | Jetta VI | Sedan | GLI |
| Volkswagen | Jetta VI | Sedan | TDI |
| Volkswagen | Jetta VI | Sedan Facelift | 1.4T |
| Volkswagen | Jetta VI | Sedan Facelift | 1.4T Hybrid |
| Volkswagen | Jetta VI | Sedan Facelift | 1.8T Gen3 |
| Volkswagen | Jetta VI | Sedan Facelift | 2.0L |
| Volkswagen | Jetta VI | Sedan Facelift | 2.0T Gen3 GLI |
| Volkswagen | Jetta VI | Sedan Facelift | TDI |
| Volkswagen | Jetta VI | Sportwagen | 2.0T |
| Volkswagen | Jetta VI | Sportwagen | 2.5 |
| Volkswagen | Jetta VI | Sportwagen | TDI |
| Volkswagen | New Beetle | All | 2.0 |
| Volkswagen | Passat B7 | FWD | 1.8T Gen3 |
| Volkswagen | Phaeton | 4 Motion | V8 |
| Volkswagen | Phaeton | 4 Motion | W12 |
| Volkswagen | R32 MKIV | All | 3.2 |
| Volkswagen | R32 MKV | All | 3.2 |
| Volkswagen | Touareg 1 | All | TDI |
| Volkswagen | Touareg 1 | All | V6 |
| Volkswagen | Touareg 1 | All | V8 |
| Volkswagen | Touareg 2 | All | TDI |
| Volkswagen | Touareg 2 | All | V10 TDI |
| Volkswagen | Touareg 2 | All | V6 |
| Volkswagen | Touareg 2 | All | V6 TDI |
| Volkswagen | Touareg 2 | All | V8 |
| Volkswagen | Touareg 3 | Hybrid | All |
*The above product applications have been written by ECS Tuning. All warranties, product application, fitment, and performance are the responsibility of ECS Tuning. For additional information see the terms of use.
others bought
recently viewed