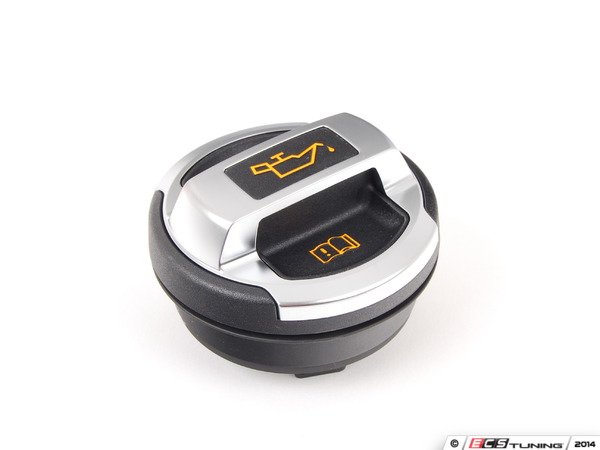 79.95

Free Shipping
Does this fit my vehicle?
Product Details
Do you want to give your engine bay a little bit of style, while at the same time getting a part that is just as useful as it is good looking? If so, pick up this new Engine Oil Cap for your Audi R8.
This oil cap will give the engine bay of your R8 a new visual appearance, while at the same time preventing oil from spilling out all over your engine. Without a useable engine oil cap, you might experience low oil pressure, oil leaks and your engine might seize up. So, not only will this part improve the look of your engine, it will help keep it safe too.
*On some models the oil cap might sit sideways unless lower portion is modified.*
*This is a non-vented oil cap.*
This Part Fits the Following Vehicles
| Make | Model | Submodel | Engine |
| --- | --- | --- | --- |
| Audi | All | All | 180HP |
| Audi | All | All | 2.7T |
| Audi | All | All | 225HP |
| Audi | All | All | V6 12v |
| Audi | A3 8P | Quattro | 3.2L |
| Audi | A3 8P | Quattro | V6 3.2L |
| Audi | A3 8P | FWD | 2.0T |
| Audi | A3 8P | FWD | TDI |
| Audi | A3 8P | Quattro | 2.0T |
| Audi | A7 | C7 | 3.0T |
| Audi | All Road | All | 2.0T |
| Audi | B5 A4 | FWD | 1.8T |
| Audi | B5 A4 | Quattro | 1.8T |
| Audi | B6 A4 | FWD | 1.8T |
| Audi | B6 A4 | FWD | V6 30v |
| Audi | B6 A4 | Quattro | 1.8T |
| Audi | B6 A4 | Quattro | V6 30v |
| Audi | B6 S4 | All | V8 |
| Audi | B7 A4 | Quattro | V6 3.2L |
| Audi | B7 A4 | FWD | 2.0T |
| Audi | B7 A4 | Quattro | 2.0T |
| Audi | B7 RS4 | All | V8 |
| Audi | B7 S4 | All | V8 |
| Audi | B8 A4 | Quattro | V6 3.2L |
| Audi | B8 A4 | FWD | 2.0T |
| Audi | B8 A4 | Quattro | 2.0T |
| Audi | B8 A5 | Quattro | 2.0T |
| Audi | B8 RS5 | All | 4.2L |
| Audi | B8 S5 | Quattro | 3.0T Cabriolet |
| Audi | B8 S5 | Quattro | 3.0T Coupe |
| Audi | B8 S5 | Quattro | V8 4.2L |
| Audi | C5 A6 | FWD | V6 2.8L |
| Audi | C5 A6 | FWD | V6 3.0L |
| Audi | C5 A6 | Quattro | 2.7T |
| Audi | C5 A6 | Quattro | 4.2 |
| Audi | C5 A6 | Quattro | V6 2.8L |
| Audi | C5 A6 | Quattro | V6 3.0L |
| Audi | C5 S6 | Quattro | 4.2 |
| Audi | C6 A6 | All | V6 3.0T |
| Audi | C6 S6 | All | V10 5.2L |
| Audi | C7 A6 | FWD | V6 3.0T |
| Audi | C7 A6 | Quattro | V6 3.0T |
| Audi | C7 A6 | FWD | 2.0T |
| Audi | C7 A6 | Quattro | 2.0T |
| Audi | D3 A8 | Quattro | 4.2 |
| Audi | D3 A8 | Quattro | W12 |
| Audi | D3 S8 | Quattro | D3 V10 |
| Audi | MK1 R8 | Quattro | V8 4.2L |
| Audi | Q3 | FWD | 2.0T |
| Audi | Q3 | Quattro | 2.0T |
| Audi | Q5 | Quattro | 2.0T |
| Audi | Q7 | GTI | 3.0T |
| Audi | Q7 | All | TDI |
| Audi | Q7 | All | V6 |
| Audi | Q7 | All | V8 |
| Audi | RS6 | All | 4.2T |
| Audi | RS7 | GTI | 4.0T |
| Audi | TT MK II | TTRS | 2.5T |
| Audi | TT MKI | Quattro | 3.2L |
| Audi | TT MKII | FWD | 2.0T |
| Audi | TT MKII | Quattro | 2.0T |
| Audi | TT MKII | TTS | 2.0T |
| Audi | TTS | MK2 (2006-2013) | 2.0T |
| Volkswagen | All | All | 1.8T |
| Volkswagen | All | All | 2.0 |
| Volkswagen | All | All | 2.0T |
| Volkswagen | All | All | 2.5 |
| Volkswagen | All | All | 2.5L |
| Volkswagen | All | All | TDI |
| Volkswagen | All | All | VR6 12v |
| Volkswagen | All | All | VR6 24v |
| Volkswagen | All | All | W8 |
| Volkswagen | Jetta VI | Sedan | 1.4T Hybrid |
| Volkswagen | Jetta VI | Sedan Facelift | 1.4T Hybrid |
| Volkswagen | Jetta VI | Sedan | GLI |
| Volkswagen | Phaeton | 4 Motion | V8 |
| Volkswagen | Phaeton | 4 Motion | W12 |
| Volkswagen | R32 MKV | All | 3.2 |
*The above product applications have been written by ECS Tuning. All warranties, product application, fitment, and performance are the responsibility of ECS Tuning. For additional information see the terms of use.
others bought
recently viewed