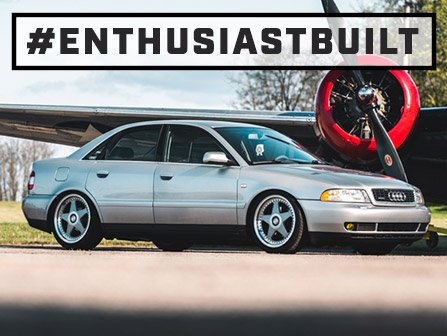 Toph - Evan's B5 A4 2.8 30v
Since selling my old E39 I've been constantly on the lookout for a replacement vehicle that is classy, classic, and manual. Lucky for me a good friend of mine had bought a minty B5 A4 2.8 5spd. After he had owned it for about 4 years, he put on ST XTA coilovers and a simple set of Rotiform RSEs. After buying it off him all I wanted to do was refresh the old suspension and drivetrain components and keep it clean and simple just like he had. Aesthetically all I added to Toph (that's her name) was a set of Avant-Garde M240s, whats next is still up for debate!
Instagram @wumbo_ing_
B5 A4 2.8T Build List
JHM Solid Short Throw Shifter (Late Style)
If you desire the ultimate in shifting, the JH Motorsports Solid Short Throw Shifter is the perfect solution!
For models with late style shifter (Cars that DO NOT have push-down style reverse)