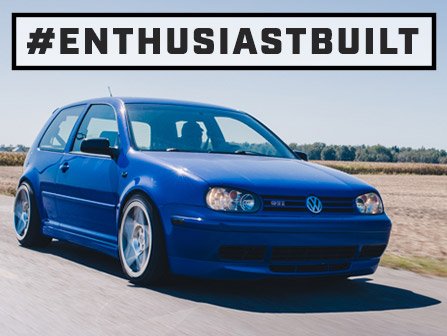 ECS Project - VW MK4 20th 1.8T Build List
Our very own shop MK4 20th 1.8T that sits on Airlift Performance suspension and can be seen on an assortment of wheel options, ranging from our Alzor wheel line to Rotiforms, 3SDM, and more. This MK4 is one of the 20th Anniversary special edition GTI's that pays homage to the introduction of the Golf for the American market and features the iconic 'Rabbit' badge on the back just like the first Golfs/Rabbits we received in the states. Find all the performance upgrades and modifications we've performed on this MK4 right here if you want to take inspiration from the ECS GTI.
ECS Build
ECS's very own shop MK4 20th 1.8T
Choose how many gift cards you would like below. You can set the denomination in your cart during checkout.
Airtech Executive Air Suspension System
All the features of the Pro Plus kit, and adds height sensors that monitor each corner of your vehicle, auto-leveling the ride height while driving.
Requires a build time of 4-5 weeks