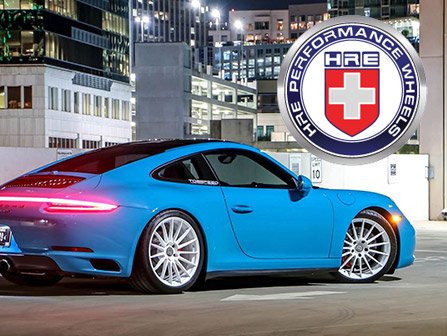 HRE Wheels for your Porsche
Long a market leader in forged wheels, HRE now offers its FlowForm line of wheels featuring iconic styling and a level of quality embodied by the HRE brand, all at an accessible price point. This cast flow formed wheel is made in Japan with the highest level of design and engineering available in the world today.
HRE FlowForm Wheels
Fits:
Porsche
Choose how many gift cards you would like below. You can set the denomination in your cart during checkout.
Availability:
Direct Ship, Ship ETA Nov 11, 2020
$12000.00
20" FF15 Style Wheels - Staggered Set Of Four - (NO LONGER AVAILABLE)
20"x8.5" ET50 And 20"x10" ET40 5x130 71.6CB Liquid Silver
Brand:

ES#: 3136090
Mfg#: 15H008550022KT
No longer available
20" FF15 Style Wheels - Staggered Set Of Four - (NO LONGER AVAILABLE)
20"x8.5" ET50 And 20"x11" ET35 5x130 71.6CB Liquid Silver
Brand:

ES#: 3136097
Mfg#: 15H008550022KT2
No longer available
20" FF15 Style Wheels - Staggered Set Of Four - (NO LONGER AVAILABLE)
20"x8.5" ET50 And 20"x11" ET60 5x130 71.6CB Liquid Silver
Brand:

ES#: 3136100
Mfg#: 15H008550022KT3
No longer available
19" FF15 Style Wheels - Staggered Set Of Four - (NO LONGER AVAILABLE)
19"x8.5" ET50 And 19"x11" ET35 5x130 71.6CB Liquid Silver
Brand:

ES#: 3136088
Mfg#: 15H908550022KT
No longer available
19" FF15 Style Wheels - Staggered Set Of Four - (NO LONGER AVAILABLE)
19"x8.5" ET50 And 19"x10" ET40 5x130 71.6CB Liquid Silver
Brand:

ES#: 3136086
Mfg#: 15H908550022GSKT
No longer available
19" FF15 Style Wheels - Staggered Set Of Four - (NO LONGER AVAILABLE)
19"x8.5" ET50 And 19"x11" ET60 5x130 71.6CB Liquid Silver
Brand:

ES#: 3136089
Mfg#: 15H908550022KT1
No longer available