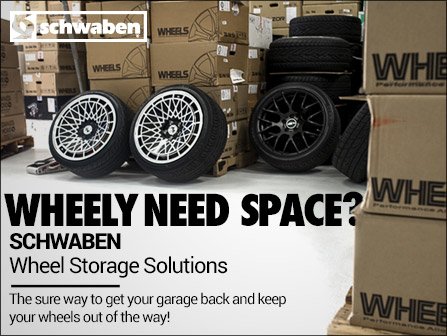 Schwaben Wheel Storage Options
Schwaben products are characterized by simple, clever designs. Their wheel storage solutions may be the best examples of these qualities.

The Schwaben Wheel Tree holds up to 275lbs and allows you to safely stack your wheels without the risk of scuffing and scratching. Convenient locking casters allow you to easily move the whole set anywhere in your garage or shop at one time.

And when saving floor space is the highest priority, the Schwaben Wall-Mounted Wheel Rack allows you to securely store up to four 11½" wide wheels and tires against the wall, away from your work space.
Space. For wheel.
Fits:
All Vehicles
Schwaben Tire Stack Cover
Put your spare tires and wheels in storage without worry. Protect them from dirt and worse with this special cover for a 4 tire stack