ECS News
Jul 22, 2011
If you want to improve your BMW's handling dynamics, as well as drop it down a bit to impress your friends, a new KW kit is the best choice for various reasons. Not only will you get an improved ride and a lowered vehicle, but you will also get a gift card to use at ECS Tuning, as well as free shipping. Whether you get the V1, V2 or the V3, each kit comes with a gift card for you to use on your next purchase. Each KW kit is the definition of quality and no matter what series you go with, your vehicle's suspension will be improved dramatically.

Jul 22, 2011
Looking to add some carbon fiber to your vehicle, but don't want to spend hundreds and thousands of dollars? 3M has created a material called DiNoc, that adheres to your vehicle to give you that carbon look. 3M Di-Noc is not just a cheap imitation vinyl, it is a high quality three-dimensional textured vinyl that reflects light the same way real carbon fiber parts do. It is simple to install, as it just sticks to pretty much any surface, but also can be removed and re-applied numerous times without losing its adhesion.

Jul 7, 2011
If you want to improve the appearance of your vehicle and stay safe on the road, pick up these new Projector Fog Lights from Ziza. Projector fog lights are almost the same as ordinary fog lights, but projector lights utilize a different type of lens. This lens results in an extra-long throw with a distance similar to a vehicle's low beam lights. All in all, they look brilliant and help your on the road viability, especially during thick fog and heavy rain or snow. Talk about a win win. This part includes assemblies for both left and right sides of your car.

Jul 1, 2011
Despite the bevy of modern technologies aimed at performance that are littered throughout our vehicles, we are still stuck with average throttle response. By using state of the art electronics, this booster will give you instantaneous acceleration, eliminating all delays. The booster comes with a selectable switch that is mounted on the dashboard to allow you to select between three different modes. Covered by a money-back guarantee that allows you to feel the difference without any risk.

Jun 13, 2011
If you just got a new set of wheels for your vehicle and you want to maintain that clean appearance, than this new JOM Germany Invisible Valve Stem Kit is perfect for your vehicle. This new kit installs on your wheels and replaces that annoying black stem. The tire must be removed in order to install this part and your valve stem will sit high enough for one nut to secure it in place. After you use the supplied adapter to inflate your tires, you are good to go. When installing these stems, we recommend applying a light film of grease during installation.

May 25, 2011
Do you use your BMW as a show car? Are you unwilling to put miles onto the odometer? If so, you might find yourself towing your vehicle around, but why should you be forced to use those ugly factory tow hooks? These replacement tow hooks feature polished surfaces and they go in without hassle. The threads go easily into any stock tow hook location and once in place, your BMW will have a more rugged appearance that is sure to turn heads or win you first place at whatever show you go to thanks to the experts at ECS Tuning. Your welcome.

May 25, 2011
Changing your oil can be a real nightmare, especially if you are holding one of those heavy oil jugs, trying to pour it into a small funnel. Chances are it will get all over your engine, ruining its appearance, but not with this new Form-A-Funnel. Amazingly, that's just one of the areas in which you can use it. This new funnel is great for draining oil too. Not to mention the fact that it goes great with our ECS Maintenance Kit.

May 25, 2011
BMW's are stylish in the first place, but why settle for stylish when you can have incredible thanks to this new Blackout Grille Set from ECS Tuning. The stock chrome grille is simply too boring and common, so spice up your BMW with a new grille from the automotive experts. ECS manufactures these blackout grilles to mount perfectly and give a great appearance. Our experts tested and developed these grills on the car itself, so you can be sure of a proper fit and unlike those chrome grilles, these won't flake or chip. Each kit is made right here in the United States.

May 25, 2011
If you plan on doing any maintenance on your vehicle, or if you enjoy replacing your own wiper blades, it might be best to pick up this new eight-piece wiper arm extractor set from Schwaben. This new kit will make removing those pesky wiper blades a breeze, no matter what car you own. With this new wiper arm extractor kit, you won't have to insert a pry bar between your windshield and the arm and try to work them off. Now, since the contact spreads out the load throughout a large area, those blades will simply pull straight off.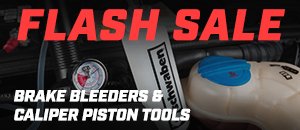 Sep 28, 2010
Brake service is an important aspect of ownership and an excellent way to increase performance with dedicated pads, rotors, calipers, and lines. Unfortunately, without the proper tools, brake services that involve bleeding are two-man jobs without the right tools and pressing caliper pistons in can be a pain. That's why we have Brake Bleeder Tools and Caliper Piston Tools for you, discounted now, to make that next brake job a breeze.