ECS News

Nov 10, 2010
Expand the lighting options in your MKV with European headlight switches from ECS Tuning. With simple installation you can add the option of marker lights, fog lights, and rear fogs to allow you to expand your lighting scheme. A direct replacement that permits you to add those custom front or rear fog lights easily and quickly. VAG-COM coding required on some models.

Nov 10, 2010
The compact way to be ready for a flat tire. This 4-way lug nut wrench allows you to store it anywhere and always be ready for unexpected situations by disassembling into smaller components. Four different sizes ensure you will find the one that fits your lug bolts. Blow molded plastic case keeps it ready and in reach when not in service. Quality Schwaben tools at an affordable price from ECS Tuning.
Nov 3, 2010
ECS Tuning's solution to the manufacturing flaw of VW. This hybrid oil pan made by ECS features a steel bottom to prevent damage to the pan from rocks and bumps. Providing additional ground clearance without changing oil capacity, this is the perfect upgrade for your lowered car. Save hundreds over the same kit from the Volkswagen dealer and prevent catastrophic damage to the oil pan.

Nov 3, 2010
Keep your variable valve timing system in your BMW healthy by replacing the filters in your VANOS system. A clean filter will allow oil to pass through without obstruction, leading to more efficient VANOS operation. Installs easily by following the instructional video from ECS Tuning. Regularly scheduled maintenance not to be overlooked.

Oct 27, 2010
Completely change the look of your BMW E46 with replica bumpers, brought to you by ECS Tuning. Give your car a much more aggressive look with CSL, M3, and M-Tech 2 replica front bumpers. Get the look of the higher end models without the expense.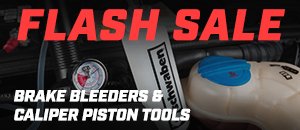 Sep 28, 2010
Brake service is an important aspect of ownership and an excellent way to increase performance with dedicated pads, rotors, calipers, and lines. Unfortunately, without the proper tools, brake services that involve bleeding are two-man jobs without the right tools and pressing caliper pistons in can be a pain. That's why we have Brake Bleeder Tools and Caliper Piston Tools for you, discounted now, to make that next brake job a breeze.

Sep 24, 2010
Schwaben Tools is proud to introduce five new tools to their already magnificent line. The new tools are the following: Twin Arm Puller Kit, 1/4-3/8 Drive Ratchet, T60 1/2 Drive Bit Socket, 3/8's Swivel Joint Sockets, and a Professional Coil Spring Compressor.

May 17, 2010
No more bulky bike racks in boring color choices! Rocky Mounts allow you to carry your bike in style. Choose from a wide array of colors that allow you to customize your look. Available in nine colors: Black, Silver, Red, White, Yellow, Blue, Green, Pink, and Orange.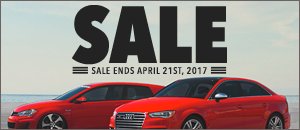 Apr 14, 2010
With tax returns and the spring season arriving, we wanted to thank you for all of the hard work that you have put in. We have selected handfuls of products to feature and reduced their price for this one time sale. Deals like this go quick, so act soon or risk missing out. Sale Ends: April 21st, 2017 Check Vehicle Fitments before purchasing

Nov 13, 2009
Now Available @ ECS Tuning Manufactured specifically for BMWs, Peake scan/reset tools make servicing your BMW cheaper and easier than ever. The tool easily connects to your diagnostic port in the engine bay and allows you to read any codes for a check engine light as well reset your oil service and inspection light with the push of a button. This tool is a must for the first time do-it-yourself mechanic and to complete any tool box.

Jul 17, 2006
Save more than just the weight! We have now bundled our popular lightweight and lightweight/under driver pulley sets with our well known high quality Ultimate Timing Belt Kits! Save up to %25 off the combined sale price when you purchase an ECS lightweight pulley solution with your Ultimate Timing Belt Kit.Reducing the rotational inertia of your motor frees up horsepower, reduces spin-up time, and gives you that extra edge over the other local VW's and Audi's. Further power is gained by means of reducing the rotational speed of the alternator and power steering pump.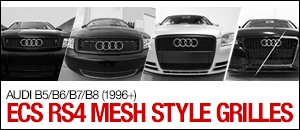 Jan 1, 2005
ECS Tuning grilles for Audi B5/B6/B7/B8 A4s make a big visual statement without a big price tag. Badgeless and RS4-style grilles are in major demand, but the OEM parts are exorbitantly priced. ECS fills this gap in the market with quality parts that replicate the exact look, fit, and finish of OEM units. With precise design and manufacturing methods, our grilles are exact-fit replacements, making it an easy upgrade for the customer. The quality and affordable price point attracts customers, and the solid wholesale margin makes ECS Tuning grilles a bottom-line booster.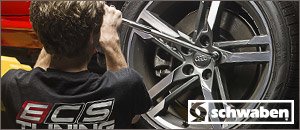 0, 0
When it comes to the wheel essential tools there are really only a few categories, Schwaben has an answer for each. When removing or installing wheels, Schwaben's Telescoping Lug Wrench gives you the leverage you need to easily loosen or tighten lugs—all in a compact, easy to store package. When you have multiple wheel and tire sets, the Schwaben Wheel Tree and Wall Rack are the perfect accessory to keeping your garage clean and organized. Extend the life of your tires by keeping them off the floor.