Nov 13, 2009
Now Available @ ECS Tuning Manufactured specifically for BMWs, Peake scan/reset tools make servicing your BMW cheaper and easier than ever. The tool easily connects to your diagnostic port in the engine bay and allows you to read any codes for a check engine light as well reset your oil service and inspection light with the push of a button. This tool is a must for the first time do-it-yourself mechanic and to complete any tool box.

Jul 17, 2006
Save more than just the weight! We have now bundled our popular lightweight and lightweight/under driver pulley sets with our well known high quality Ultimate Timing Belt Kits! Save up to %25 off the combined sale price when you purchase an ECS lightweight pulley solution with your Ultimate Timing Belt Kit.Reducing the rotational inertia of your motor frees up horsepower, reduces spin-up time, and gives you that extra edge over the other local VW's and Audi's. Further power is gained by means of reducing the rotational speed of the alternator and power steering pump.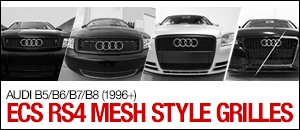 Jan 1, 2005
ECS Tuning grilles for Audi B5/B6/B7/B8 A4s make a big visual statement without a big price tag. Badgeless and RS4-style grilles are in major demand, but the OEM parts are exorbitantly priced. ECS fills this gap in the market with quality parts that replicate the exact look, fit, and finish of OEM units. With precise design and manufacturing methods, our grilles are exact-fit replacements, making it an easy upgrade for the customer. The quality and affordable price point attracts customers, and the solid wholesale margin makes ECS Tuning grilles a bottom-line booster.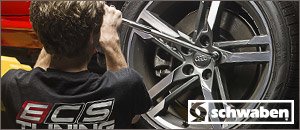 0, 0
When it comes to the wheel essential tools there are really only a few categories, Schwaben has an answer for each. When removing or installing wheels, Schwaben's Telescoping Lug Wrench gives you the leverage you need to easily loosen or tighten lugs—all in a compact, easy to store package. When you have multiple wheel and tire sets, the Schwaben Wheel Tree and Wall Rack are the perfect accessory to keeping your garage clean and organized. Extend the life of your tires by keeping them off the floor.